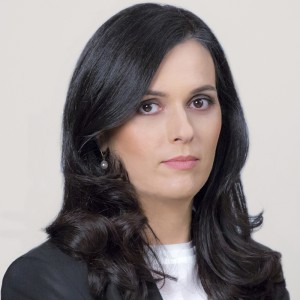 Expertise
Cosmina Simion is an intellectual property, regulatory and technology lawyer with more than 20 years of professional experience, with expertise in various industries, with a particular emphasis on the media and entertainment, online and gambling industries.
Co-head of the Gaming and Consumer Protection practices, together with Ana-Maria Baciu, she combines her strong advisory expertise acquired during her coordination roles in leading law firms with the specific approach built during her in-house role (at a US group, leader in the regional media sector). Throughout her career she coordinated teams of specialists in complex licensing procedures, acquisitions and tenders.
Recognized by clients for her broad media regulatory experience, Cosmina regularly contributes to domestic working groups seeking to improve the business and regulatory approaches in the industries she is active in and advises local and multinational clients on aspects related to:
intellectual property: trademarks, designs and domain names, copyright, IP transactional, patents, enforcements and border measures
gaming: acts for operators and suppliers alike and is actively involved in the review of the gaming legal framework, including representing clients in front of the Romanian regulator
consumer protection: aspects related to product safety and product liability, including warranties and product recall, promotional activities and labeling, distance contracts/e-commerce

entertainment industry: regulatory advice on advertising matters, as well as general commercial & IP advice to the sector
Cosmina also advised on privacy/protection of personal data matters and coordinated cross-border mergers & acquisitions transactions in the industry sectors she focuses on.
Representative Cases and Transactions
advice to a large grocery manufacturer and processing conglomerate in relation to the protection of registered trademarks and designs, in the context of civil and criminal counterfeit actions and unfair competition proceedings
assistance to various clients operating in the e-commerce business during opposition proceedings before OHIM and subsequent negotiations on future use of the trademarks in question
assistance to an American software corporation, global leader in 3D design, engineering and entertainment software on the intellectual property aspects in the context of a complex transaction involving the acquisition of software companies within one of the largest corporate groups developing software solutions for industrial and civil constructions, integrated CAD solutions, structural analysis etc. The software solutions developed by the target group was the main focus of the transaction.
assistance to one the main European institution on the protection of trademarks, industrial designs, patents, copyright, know-how and confidential information in Romania
legal advice to a leading international pharmaceutical company on the protection of intellectual property rights against parallel imports, negotiating with parallel importers on repackaging conditions for the marketing of products on the Romanian market
legal advice to a large German telecom operator in relation to intellectual property risks arising in the context of retransmission agreements
assistance to several software development companies, as well as private equity funds, in relation to the protection of intellectual property, drafting and negotiating software and trademark license agreements, joint venture agreements, assignment agreement, SaaS agreements etc.
legal advice to an international retail chain and an American chain of dance studios in relation to the conclusion of franchise agreements
assistance to several companies active in the IT sector on e-commerce regulatory issues and copyright infringement in the online environment with a focus on peer to peer file sharing
assistance to a worldwide producer of games software, part of a Nasdaq listed group, on intellectual property regulatory issues in relation to securing valid title for their products and drafting template agreements to be used in the relationship with their employees and contractors
assistance to various leading online gambling operators in relation to access to Romanian market (including assistance with the licensing and authorization process), as well as assistance in relation to the day-to-day activities in Romania
assistance to certain major online operators during the process of applying for the criminal and fiscal amnesty for online gambling activity carried out in Romania before 2015, without holding Romanian license and authorization
assistance to some of the most important software and platform management and hosting services providers to the online gambling industry in relation to access to Romanian market (including assistance with the licensing process), as well as assistance in relation to the day-to-day activities in Romania
assistance to payment processors in the online gambling industry in relation to access to Romanian market (including assistance with the licensing process), as well as assistance in relation to the day-to-day activities in Romania
assistance to one of Europe's pre-eminent betting and gaming businesses in relation to regulatory aspects for the contemplated acquisition of one of the top gaming companies in Romania
assistance to a leading independent and internationally approved testing agency, specialising in the certification of online gaming software and systems in relation to general advice on gambling matters
assistance to the largest online gaming professional association in the world, representing most of the world's largest licensed and stock market-listed remote gaming operators and software providers, during the drafting of the primary and secondary legislation  in the gaming field, in close cooperation with the Romanian National Gambling Office and the representatives of the Romanian association in the industry
assistance to a British multinational banking and financial services company in relation to regulatory aspects for services offered to its clients and concerning gaming matters
assistance to Romanian and international clients on Romanian gambling law compliance for lotteries and advertising practices intended to be carried out by the clients in Romania
advising the

professional advertising association

in relation to challenging the new legislative framework regulating the acquisition of TV advertising space, in front of the Romanian Government and Parliament
advising an energy company in relation to formal complaints lodged with the National Audiovisual Council and the Romanian Advertisers Committee with regard to audiovisual regulatory issues relating to TV advertising campaigns
assisting one of the global leaders in marketing, communication, and business transformation in consolidating its presence in Romania involving multiple mergers and acquisitions

advising a pharmaceutical company, producer of innovative products on advertising and intellectual property regulatory issues, as well as drafting and negotiating template media buying agreements with advertising agencies and TV stations

assisting worldwide pharmaceutical companies with drafting template agreements to be used with suppliers, marketing partners,  etc.

advising on the drafting and negotiation of a white label agreement relating to retransmission services
legal advice to a leading global marketing platform, which connects mobile brands with consumers around the world, on the development of interactive marketing campaigns and other promotional activities
assistance to a Spanish retail clothes manufacturer on promotional sales from the Romanian law perspective
legal advice to a well-known international restaurant chain on regulatory aspects for performing promotional campaigns in Romania
assistance to various companies active in the e-commerce and IT sector on regulatory issues concerning e-commerce, consumer protection, intellectual property and privacy issues
assistance to a worldwide pharmaceutical company in relation to its promotional and advertising campaigns on consumer protection, intellectual property and advertising issues
ongoing regulatory assistance to a leading international cash&carry company on consumer protection and privacy related issues
legal advice to a significant player in the telecom field on the drafting and negotiation of a white label agreement relating the retransmission services
assistance to one of the largest Swedish furniture companies on regulatory issues concerning consumer protection and privacy issues

assisting an international pawn business American company listed on Nasdaq on its entry on the Romanian market both on the acquisition of local companies, as well as on

regulatory issues and consumer protection issues

drafting a position paper for the American Chamber of Commerce in Romania in relation to the new European Regulation on data protection, liaising with the European Parliament and local public authorities
advising a broad range of clients on data protection compliance: registration as personal data controllers with the Romanian Data Protection Authority, drafting outsourcing agreements involving international data transfers
 Selected credentials listed above include some of Cosmina's work prior to joining NNDKP also.
Accolades
Ranked by Legal 500 as a Leading Individual in Gambling Law
Recommended by Legal 500 for TMT
Cosmina Simion, "provides out-of-the-box thinking."
(Legal 500, 2018)
Cosmina Simion, "provides calm leadership throughout."
(Legal 500, 2017)
"Very proactive and helpful in all the stages of our project."
(IP Stars, 2016)
"'Always well prepared' […] practice head Cosmina Simion 'speaks the media language'."
( Legal 500, 2015)
Education
Nicolae Titulescu University Law School and International Relations, Law Degree
Licensed Industrial Property Attorney
Memberships and Affiliations
Bucharest Bar
Romanian National Chamber of Industrial Property Attorneys
International Association for the Protection of Intellectual Property (AIPPI)
International Trade Mark Association (INTA)

International Masters of Gaming Law (IMGL), General Member

American Chamber of Commerce in Romania (ICT Committee, Advertising Task Force)
Notable contributions
Intellectual Property
speaker at the event Intellectual Property (IP) in the Digital Economy for Small and Medium-sized Enterprise (SMEs) Conference IP and Interactive Entertainment (IE), Third Edition, organized by World Intellectual Property Organization, ORDA si OSIM (2018)
Brief considerations with respect to the novel element brought by Law no. 83/2014 regarding inventions during employment in the field of patents (Intellectual Property Magazine no.3/2014)
"European Court of Justice strengthens the protection granted to unregistered Community designs" (Juridice.ro)
Gaming
speaker at ICE 2019, in a Masterclass panel organized by the International Masters of Gaming Law (IMGL), with the presentation "Social responsibility – What does it really mean?" (London, United Kingdom, February 2019)
Member of the Editorial Board of the Gaming Law Review (GLR), a leading peer-reviewed journal that presents the latest developments in legislation, regulation, and judicial decisions affecting gaming around the world; GLR is also an official legal publication of the International Masters of Gaming Law (IMGL) (2018 – present)
speaker at the 7th ReUnion of the Gambling Professionals, organized by Casino Inside (2018)
speaker at the Marketing in Gambling Forum, organized by Casino Magazine (2018)
"ICLG: Gambling 2019 – Romania Chapter" (Global Legal Group, 2018) (co-author)
speaker at the Central and Eastern European Gaming Conference and Awards, organized by European Gaming Events, in the panel "Focus on Eastern Europe – Romania, Bulgaria, Belarus" (Budapest, Hungary, 2018)
speaker at the IAGR Conference 2018, in the panel "IMGL Masterclass: How Can the Industry be Truly Socially Responsible" (Copenhagen, Denmark, 2018)
moderator of the Panel "How Can the Industry be Truly Socially Responsible?" at the IMGL Autumn Conference 2018 (Prague, Czech Republic, 2018)
"Insight on the Romanian gambling market from a legalistic perspective" (iNTERGAMINGi, 2018) (co-author)
"Is the gambling affiliate marketing industry at tipping point?" (European Gambling Lawyer, 2018) (co-author)
"Gaming in Romania: overview" (Thomson Reuters, 2018) (co-author)
"The Gambling Law Review – Edition 2: Romania chapter" (2017) (co-author)
speaker at the IMGL Masterclass "Future of Affiliate Marketing" (EEGS, Sofia, Bulgaria, 2017)
speaker at "The 6th ReUNION of the Gambling Professionals" organized by Casino Inside Magazine (2017)
speaker at the Eastern European Gaming Summit – EEGS, with the presentation "A year later. Update on the current legislative situation and issued licenses" (EEGS, Sofia, Bulgaria, 2016)
speaker at WrB Eastern Europe 2016 with the presentation "Market opportunities in the flourishing Romanian online sector. A year post regulation" (World Regulatory Briefing, Warsaw, Poland, 2016)
speaker at EGR Online Gambling Briefing – Eastern Europe 2016, in the panel "A moveable feast: An update from the Romanian market" (EGR Magazine, Prague, Czech Republic, 2016)
"Eastern Europe: Staying competitive and compliant within a fragmented market" (January 2016, part of a series of a pre-ICE webinars organized by Clarion)
speaker at the webinars: "Romanian first interim licenses are out; what's next?" (November 2015 in association with iGaming Business Magazine)
"Romania 2.0" (European Gaming Lawyer Magazine, September 2015)
gambling law updates on Lexology (Globe Business Media Group, 2014-2015)
regular contributor to: Gambling Compliance, iGaming Business as well as Casino Inside (2014 to present date)
  Telecom Media & Technology
"The new EU's directive on copyright – where is the internet headed?" (Revista Cariere, 2018) (co-author)
speaker at the "Focus on Blockchain" conference, organized by Business Review (2018)
speaker at the CIO Conference, organized by CIO Council and Revista Cariere (2018)
speaker at the 4th edition of the Foreign Investors Summit, Panel "Focus on Technology & Innovation" (organized by Business Review, Bucharest, 2017)
regular contributor for Casino Inside (2015-present)
"To Be or not to Be…"Forgotten" on the Internet" (Wall-Street, 2014)
"The Technology, Media and Telecommunications Review – Romania chapter" (Law Business Research, 2013)
"Personal Data Protection: New European Regulation Was Voted" (Wall-Street, 2013)
special guest in TV business news on "Money Channel" discussing data privacy aspects in the e-commerce sector
speaker at "Legal issues in social media" (organised by Evensys, 2010, 2011)