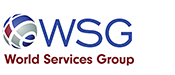 World Services Group
NNDKP has been the exclusive World Services Group (WSG) member for Romania since 2002.
World Services Group is the largest multidisciplinary professional services network in the world, with more than 130 member firms in law, accounting, investment banking, and other fields, located in more than 115 countries. Members must meet rigorous and periodically reviewed standards, which include:
being among the leading local, national, or international business in their service area;
having the highest professional reputation within the respective community; and
having unparalleled depth of practical experience in their region
World Services Group creates the framework for our firm to communicate even more extensively, far beyond Romanian and regional borders, our multidisciplinary approach to client service.
Exchange of information with other WSG members, in addition to access to international resources and most up-to-date information systems, create and expand opportunities to share best practices from across the globe in the legal and financial services, to identify mechanisms and tools for addressing the changing needs of the clients and improving client service.
go to the World Services Group website