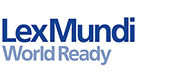 Lex Mundi
NNDKP has been a member of Lex Mundi since 1999. Many of our lawyers perform active and prominent roles in some of Lex Mundi's 30 practice groups. Our global reach through Lex Mundi enables us to give our clients a "world view" of the far-reaching issues in today's global economy, as well the legal resources to address them anywhere in the world.
In an international legal market that now has more then 300 law firm networks, Lex Mundi continues to be universally regarded as the most prestigious. Lex Mundi gives our lawyers and our clients a single access point to 160 law firms in more than 100 countries, as well as more than 21,000 of the world's most respected lawyers.
The Lex Mundi practice groups are integrated, fully functioning client service teams, which continuously exchange information about legal and business developments and collaborate on multi-jurisdictional matters.
This supports NNDKP's ongoing commitment to help clients identify emerging issues in other regions and to keep them ahead of the trends and changes that can profoundly affect their businesses and investments.
go to the Lex Mundi website