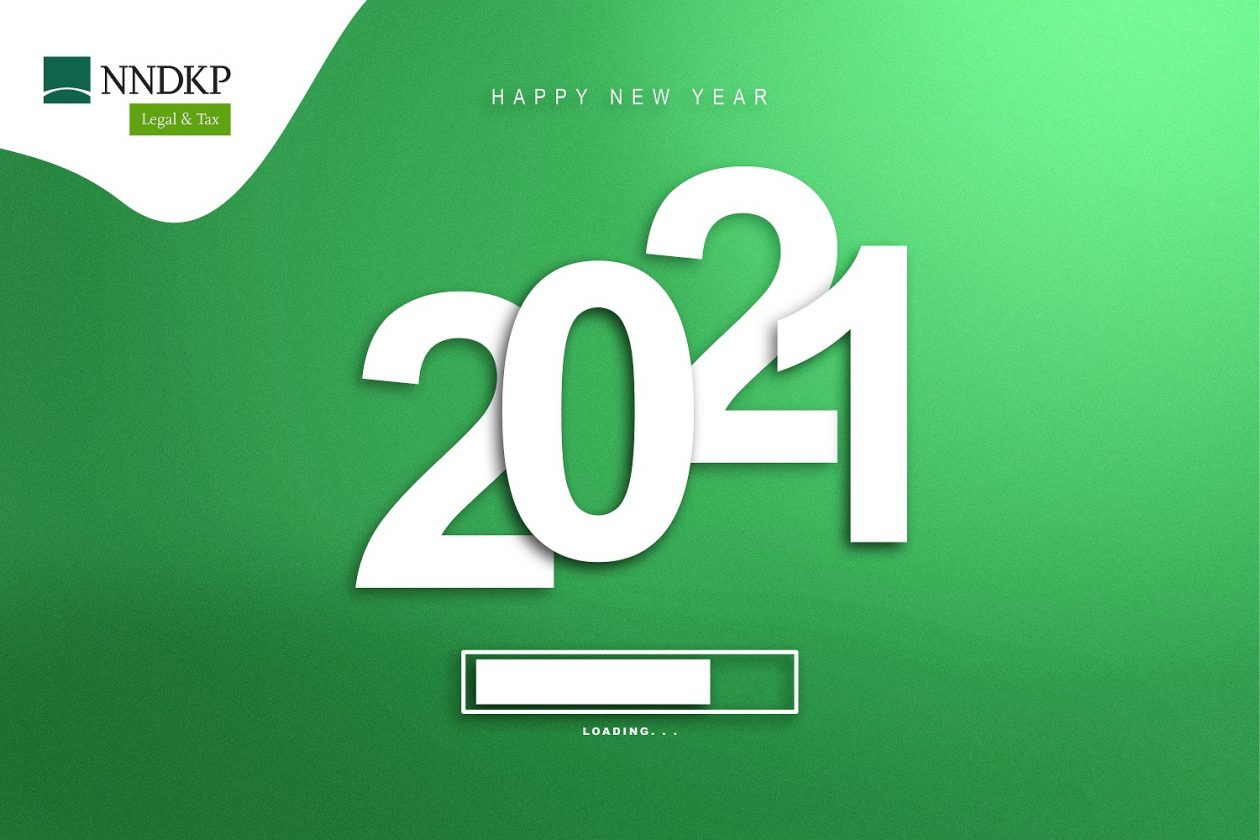 2021 – Nice to have met you! 2022 – We'll make you count!
2021 was like a roller-coaster ride – a year full of challenges, as well as opportunities. During times of uncertainty, we have adapted to the new reality and moved forward together. Our team had a professionally rewarding year, and we are thankful for their exceptional work and strong commitment towards our clients! Also, we are grateful for working together with our clients, partners and collaborators and for all the projects we have completed this past year.
And, as the year end is drawing closer, we look back at all the great things we have achieved in 2021. Here is our (brief) recap.
In 2021 we:
Were recognized for our long-standing performance
NNDKP received several distinctions from both international and local publications for its notable achievements, including outstanding work, impressive strategic growth and excellence in client service.
From international observers, we received:
the much coveted "Romania Law Firm of the Year" award, granted by Chambers Europe, this being the 5th time we have received this distinction (the most awarded law firm in Romania)
From local publications, we received:
the "Law Firm of the Year" award (Romanian Legal Awards by Legal Marketing)
the "Best Firm of the Year" award (Top Lawyers Awards by Finmedia)
Awards for outstanding activity in Public Procurement, Employment and Data Protection (Romanian Legal Awards by Legal Marketing)
Launched Act for Ethics hub
NNDKP launched Act for Ethics, a legal & tax hub dedicated to business ethics and compliance. Its main focus in 2021 was on the Whistleblowers' Directive and its expected transposition into national law. The hub addresses corporate governance, employment law and data protection aspects to be considered for the purpose of ensuring compliance with the legal provisions concerning whistleblowers.
Innovated
NNDKP adopted and implemented various innovative solutions for its day-to-day activity in order to streamline business processes and to continue to provide high-quality legal and tax services. We expect that during 2022 such solutions will start generating concrete benefits for our clients.
Organized the 5th and the 6th editions of our Legal & Tax Conference
We have continued our tradition of organizing the Legal & Tax Conference, in collaboration with Ziarul Financiar. In 2021 we moved the Conference online and organized two editions of the event:
"Fiscal disputes during pandemic times" (the video recording is available here) and
"What will be the impact of the NRRP on the economy and the business environment; what are the fiscal and legislative changes that will follow?" (the video recording is available here).
Supported the next generation of lawyers
Over the years, NNDKP has organized many programs dedicated to law students and has guided and trained many generations of young lawyers. And 2021 was not much different from other years.
During the 15th edition of NNDKP Summer School, 41 law students joined our offices in Bucharest, Cluj-Napoca and Timisoara and caught a glimpse into our day-to-day activity.
Also, together with Asociatia Studentilor in Drept (Law Students' Association) we organized two contests for students:
Mock Trials in Competition Law, and
Mock Trials in Administrative Law.
The jurors for both contests were our colleagues from our Competition and Dispute Resolution practices.
Furthermore, for a smooth induction of first-year students entering the Law School, our colleagues contributed to the Freshmen's Guide, compiled by the Law Students' Association (available here).
Were acknowledged in international rankings
We have continued to maintain a leading position in the legal rankings prepared by reputable international legal guides (2021 edition), which reconfirms our status as a leading law firm in Romania:
 18 Band 1/Tier 1 positions for our practices
Ranked first (Band 1) in 5 practice areas researched in Romania by Chambers Europe
Ranked first (Tier 1) in 11 practice areas researched in Romania by The Legal 500
Ranked first (Tier 1) in 2 practice areas researched in Romania by IFLR 1000
Recommended firm for litigation and transaction matters, as well as prosecution in the IAM Patent 1000
Ranked firm in Romania for Patent contentious, Trademark contentious and Trademark prosecution, by Managing Intellectual Property – IP Stars
 39 lawyers and counsellors included in the individual rankings
 17 professionals listed by Chambers Europe
37 professionals included in The Legal 500
14 professionals recognized by IFLR 1000
5 professionals ranked by Who's Who Legal
2 professionals recommended by IAM Patent 1000
This is the largest number of NNDKP professionals ever acknowledged by international guides – an impressive result on the local market!
Received outstanding individual recognition
In 2021 several NNDKP practitioners received awards or recognition for their outstanding professional performance in this highly competitive domestic market:
Added new deals to our track record
 In 2021, we were involved in major deals on the Romanian market, assisting the entire spectrum of clients, from Romanian entrepreneurs to large international corporations, including:
AAylex Group, one of the leading Romanian players in the food industry – in relation to complex finance and corporate aspects regarding the Group's expansion and business consolidation in Romania
DKV, the market leader in Europe in providing cash-free service en route to the transport business – in the acquisition of Smart Diesel
Globalworth, a major real estate investment company – in the acquisition of industrial projects IPW Arad and IPW Oradea
CTP, the largest owner of industrial and logistics parks in the CEE region – in the listing on Euronext
Purolite, the world leader in resin technologies – in connection with its acquisition by Ecolab
BCR, a leading Romanian bank part of ERSTE Group – in the sale of Bucharest Financial Plaza, its former headquarters and a landmark building in Bucharest
Getin Holding, a Polish financial holding – in the sale of Idea Bank
Safety Broker, the largest independent insurance broker operating in Romania – in the sale of an 80% stake to Unilink
Clinica Victoria, a Romanian company active in the dental care and imaging services – in establishing a partnership with EquiLiant Capital
More details on our work can be found here.
Shared our knowledge and expertise
Continued to support those who need help
"Social distancing" was the term used to define, in fact, "physical distancing", a measure that has negatively influenced our lives in the past two years. While distancing is useful during pandemic times as a way to protect us and our loved ones, it should be accompanied by "social closeness". Strengthening the bonds between people and building communities should be a goal for all of us during this period.
In 2021 NNDKP supported the initiatives of: Asociatia Invingem Autismul ("Defeating Autism" Association), MagiCAMP Association, Motivation Romania Foundation (Fundatia Motivation Romania), Fundatia Regala Margareta a Romaniei (The Princess Margareta of Romania Foundation) and SOS Children's Villages.
See you all in 2022!