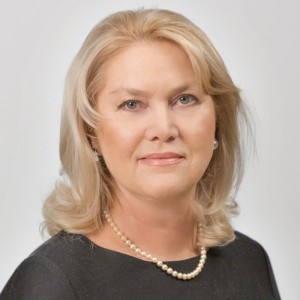 Expertise
One of the firm's founders, Manuela Marina Nestor is a Co-Managing Partner and heads the Banking, Finance and Capital Markets department of NNDKP. Mrs. Nestor has extensive experience in sophisticated transactions in both the public and private sectors. Her practice is distinguished by creative and practical problem solving ability combined with rigorous attention to detail in arriving at the most efficient and satisfactory solutions for the clients. Her expertise focuses on:
mergers and acquisitions
privatizations
restructurings and spin-offs
bilateral transactions
syndicated and sub-participated loan
secured, unsecured and guaranteed loans
term loans
revolving, overdraft, swing-line, standing-by and bridging financings
multiple option facilities
factoring
cash-pooling transactions
Prior to founding NNDKP in 1990, Mrs. Nestor acted, before 1989, as Legal Advisor and General Counsel to the Romanian Consulting Institute Romconsult and as General Counsel to the University of Bucharest.
Representative Cases and Transactions
lead counsel in the acquisition by a major US car manufacturing of a majority stake in a local car factory, including: post privatization restructuring, securing project financing from the European Investment Bank, state aid grant, and arbitration of a historic pollution claim
counsel to a leading beverages producer in connection with the acquisition of the controlling interest in a joint venture with a former factory
counsel to a leading consumer goods manufacturer in connection with the acquisition of the controlling interest in a Romanian detergent manufacturing company
counsel to a leading ship manufacturer in connection with the acquisition of the controlling equity interest in a local shipyard
counsel to a premier resins manufacturer in connection with the acquisition of a controlling interest in a joint venture with a chemical plant and with post-transaction matters related to the client's day-to-day activities
counsel to a major oil and gas service company and its European affiliates in the acquisition of the controlling equity interest in two local players, as well as in the public offering to purchase all shares of one of them and in the squeeze-out procedure
counsel to the largest financial institution across the globe in connection with the restructuring of the Romanian privatization legislation by participating in the drafting of the 1999 Privatization Law and of the implementing methodology norms
counsel as part of an international consortium in connection with the restructuring of the former state owned telecommunications operator, transformation into a joint stock company and privatization via selling of the controlling equity interest
lead counsel in a project finance deal including a major equity financing component and involving a major Japanese bank as lender, related to the restructuring of a Romanian company active in the field of automobile spare part business, following its exit in favor of the leading French tires manufacturer and distributor, a project totaling over 120 million EUR
counsel to the former investment banking division of a major international financial institution, in connection with the creation of the security package in Romania for a loan granted to an important player in steel manufacturing for an amount of 500 million USD
Accolades
Ranked by IFLR 1000 in the Women Leaders category
Rated by IFLR 1000 as Expert Consultant for Banking
Ranked by Chambers and Partners as a Leading Individual for Corporate/M&A
Recommended by Legal 500 for Banking, Finance and Capital Markets
Ranked by Legal 500 as Leading Individual for Restructuring and Insolvency
Rated by IFLR 1000 as a Leading Lawyer for Banking
Rated by IFLR 1000 as a Leading Lawyer for M&A
Manuela Nestor is a prestigious name in the Romanian market with a reputation as a first-class transactional lawyer.
(Chambers and Partners, 2014)
"Manuela Nestor is an incredibly sharp lawyer with impressive in-depth knowledge of banking and financial services law,' one client says. 'She is responsive, provides pragmatic solutions and ensures that her clients receive high quality advice. She is a pleasure to work with."
(IFLR 1000, 2014)
Education
University of Bucharest Law School, Law Degree
Economic Studies Academy, Bucharest, Romania, Master Degree in International Commercial Relationships
Training Center of the Personnel Working in Foreign Trade Enterprises, annual Post-Graduation courses in Romanian and International Commercial Law
Economic Studies Academy, Bucharest, Romania, Master Degree in International Commercial Law
State University of Bucharest, annual Post-Graduation courses in civil, commercial and economic Romanian law
London School of Economics and Political Sciences in cooperation with EBRD, Seminars, Financial and Corporate Law Issues for Lawyers in Transition Economy
Memberships and Affiliations
Bucharest Bar
International Bar Association
Lex Mundi, Cross Border Transactions Practice Group, Member
World Services Group, Mergers & Acquisitions – European Transactions Practice Group, Member; Privatization Practice Group, Member; Government Contracts Practice Group, Member
SEE Legal, past chairperson for the association
Notable Contributions
"Romania Report on Legal Rights ", Doing Business Report 2016 (World Bank and IFC, 2015)
"Romania Report on Going Beyond Efficiency", Doing Business Report 2015 (World Bank and IFC, 2014)
"Romania Report on Understanding Regulations for Small and Medium Enterprises", Doing Business Report 2014 (World Bank and IFC, 2013)
"Romania Survey on Smarter Regulation for Small and Medium Size Enterprises", Doing Business Report 2013 (World Bank and IFC, 2012)
"Doing Business in a More Transparent World – Getting Credit", Doing Business Report 2012 (World Bank and IFC, 2011)
"Getting Credit- Legal Rights – Romania chapter", Doing Business Report 2010 (World Bank and IFC, 2009)
"EBRD Mortgage Research Project – Romania chapter" (EBRD, 2007)
"PPP in Romania", European PPP Book (City &Financial Publishing, 2005)
"Securitization in Romania-timid steps towards understanding, accepting and utilizing a beneficial financing tool", Deutsche Bank's Global Securitization and Structural Finance Guide 2003/2004 (Globe White Pages, 2003)
"The collective legal subjects in Romania" (Academy of Social and Political Sciences in cooperation with the Legal Research Institute, 1981) (co-author)