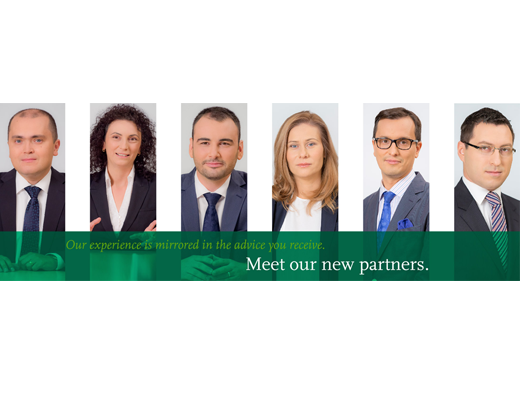 Promotions at NNDKP
Nestor Nestor Diculescu Kingston Petersen announced today the promotion of six lawyers to partnership, in one of the most important rounds of promotions within the firm in recent years. This step is part of NNDKP's strategy of continuously consolidating its position as a leader of the Romanian business law market.
Marius Ezer, Daniela Gramaticescu, Valeriu Mina, Oana Partenie and Catalin Radbata were promoted to partner within the Dispute Resolution Department, and Vlad Tanase was promoted to partner within the Real Estate Practice of the firm.
In addition to the promotions at partnership level, NNDKP promoted eight lawyers on different levels of seniority: Lucian Vitelaru was promoted to Managing Associate within the Real Estate Practice, while Alexandru Aman, Cristina Bajdiu, Cristian Dranca, Ioana Vieru (Corporate/M&A Practice), Daniela Ghervas, Edgar Jakab, and Monica Timofte (Dispute Resolution Department) were promoted to Senior Associate positions.
"As pioneers of an activity sector where the capacity to anticipate and respond to an enhanced degree of sophistication constitutes an essential requirement, our goal has always been that of training lawyers with top expertise and professional skills. The quality of the team members, the structure of the firm and the market context have provided in over 25 years of activity, the proper environment for the professional training and development of several generations of lawyers who demonstrated, one after the other, that they have the necessary resources and the ability to mix our approach with the constant need of change of the domestic and international markets. 

Today, it gives me great pleasure to congratulate and thank Marius, Daniela, Valeriu, Oana, Cătălin and Vlad for their significant contribution  to the consolidation and permanent diversification of the activity of their practice areas. Furthermore, I am confident that the young lawyers promoted to the other levels of seniority will also contribute, with the same dedication, to the following stages of evolution and development of our firm", stated Ion Nestor, NNDKP Co-Managing Partner.
Starting with March 1, 2017, the NNDKP team will be comprised of 30 partners (25 lawyers and 5 tax advisors), over 145 lawyers and advisors and over 80 employees in the supporting departments.
Information on the new partners:
Marius Ezer, Partner
Marius joined the NNDKP team in 2008.
He has more than 11 years of professional experience with focus on complex insolvency proceedings, creditor rights and asset recovery as well as complex tax disputes. In addition, Marius assists clients in disputes related to corporate reorganization, labor litigation, disputes related to loan facilities for real estate development projects or enforcement of lease agreements, as well as arising in connection with contractual relations governed by FIDIC rules.
Daniela Gramaticescu, Partner
Daniela joined the NNDKP team in 2006.
She has more than 15 years of professional experience in the legal area, assisting clients from various industries both before the Romanian courts, as well as before the international courts of arbitration. Daniela has developed substantial experience in administrative and fiscal litigation, arbitration proceedings, disputes related to construction agreements, civil and commercial litigation, public procurement disputes, labor litigation, as well as enforcement of judgments, corporate disputes and real estate and infrastructure disputes.
Valeriu Mina, Partner
Valeriu joined the NNDKP team in 2005.
He has over 11 years of professional experience in dispute resolution and arbitration matters, representing an important number of clients in complex commercial disputes such as those arising in connection with the administrative contractual relations governed by FIDIC rules, as well as in public procurement related litigation. Valeriu has also experience in civil disputes related to the challenging of public and private property rights, insolvency proceedings, labor and intellectual property litigation.
Oana Partenie, Partner
Oana joined the NNDKP team in 2001.
She has over 17 years of experience in representing clients in civil and commercial litigation, international trade law disputes, enforcement proceedings, consumer protection and administrative litigation and insolvency proceedings. In addition to representing clients in court proceedings, Oana is a mediator, trained to participate in mediation and the settlement of disputes before they are addressed to the courts.
Catalin Radbata, Partner
Catalin joined the NNDKP team in 2009.
He has over 11 years of professional experience with a substantial expertise in transnational litigation, insolvency proceedings and recognition and enforcement proceedings of foreign judgments or arbitration awards in Romania (including ECJ preliminary applications and representation). Cătălin is mostly involved in insolvency and bankruptcy proceedings but international arbitration as well, in particular in residential, commercial, agricultural and industrial constructions and installations. In addition, he has coordinated complex projects regarding the acquisition of NPL portfolios by various international investors.
Vlad Tanase, Partner
Vlad joined the NNDKP team in 2005.
Having a professional experience of over 11 years, he assists clients in connection with a wide range of real estate matters, including real estate acquisition, transaction structuring, due diligence, joint ventures and exit strategies. His expertise includes urban planning, construction agreements and permitting matters for complex mixed-use projects, industrial, mining and energy industries as well as in-depth knowledge of office, retail, logistic and hospitality businesses.
Information on the other promoted colleagues:
Lucian Vitelaru, Managing Associate
Having a professional experience of over 11 years, Lucian assists clients in all real estate areas, including acquisitions, transaction structuring, due diligence, as well as sale, lease and administration of properties from various categories of portfolios. His expertise includes sale agreements, options to purchase, title insurances, contractors agreements, lease agreements, urbanism and permitting matters, having an in-depth knowledge of office, retail, logistic, residential and hospitality markets.
Alexandru Aman, Senior Associate
Alexandru has over five years of experience in providing legal assistance in  corporate law, mergers and acquisitions, public procurement matters, telecommunications and energy law (natural gas related projects). Alexandru has assisted major construction companies, telecommunications operators, global IT providers as well as key companies active in the energy and agricultural sectors.
Cristina Bajdiu, Senior Associate
Cristina has over nine years of professional experience in corporate law, mergers and acquisitions as well as in matters connected to the public procurement field. She has assisted clients in the negotiation and implementation of complex commercial transactions and has coordinated various due diligence projects. Cristina  is also experienced in matters concerning the implementation of public procurement contracts in the infrastructure sector, having extensive expertise in relation to the performance of FIDIC contracts , also assisting clients throughout the adjudication proceedings established under the FIDIC contracts.
Cristian Dranca, Senior Associate
Cristian has over seven years of professional experience in corporate law, mergers and acquisitions, public procurement and commercial contracts. Cristian assists clients in matters related to corporate acquisitions and restructuring in the private sector as well as privatizations (including legal due diligence, structuring and implementation of the transactions, drafting and negotiation of the contractual documents and post implementation formalities), reorganization of corporate and commercial relationships and negotiations, cross-border transactions, domestic and international joint-ventures or strategic corporate partnerships in various projects. Similarly, Cristian is assisting and representing clients in competitive public procurement proceedings and in the related litigation stages.
Daniela Ghervas, Senior Associate
Daniela has over five years of professional experience, focusing her practice on dispute resolution matters. Her field of expertise covers litigation in the areas of intellectual property, civil law, competition law, administrative litigation and labor law. She also has substantial expertise in international commercial arbitration, as well as in the recognition and enforcement of foreign arbitration awards and court judgments.
Edgar Jakab, Senior Associate
Edgar has over twelve years of professional experience in dispute resolution matters. He provides assistance to and represents clients before the courts, including the High Court of Cassation and Justice, in matters related to banking, administrative and tax law, public procurement as well as insolvency proceedings and forced execution. In addition, Edgar has developed significant experience in greenfield investments and real estate projects.
Ioana Vieru, Senior Associate
Ioana has over seven years of professional experience in corporate law, mergers and acquisitions as well as in the energy and natural resources field. She regularly assists clients throughout acquisitions (performed particularly in the private sector) by participating in the legal due diligence process, by providing legal advice for the structuring and preparation of the transaction documents as well as by supporting the parties for the fulfillment of the conditions precedent.
Monica Timofte, Senior Associate
Monica has over ten years of experience in relation to litigation cases with particular focus on commercial and banking litigation, bankruptcy and reorganization procedures, administrative and tax litigation as well as environmental law litigation. Monica has been involved in the assistance and representation of major commercial banks in litigation related to loan contracts involving aspects of consumer protection and implementation of European directives on loan agreements.