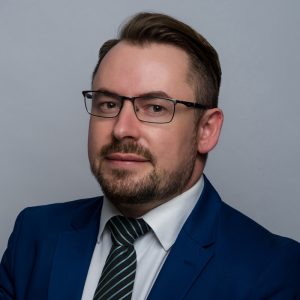 Expertise
Cristian has over 14 years of professional experience in the legal field.
He focuses his practice on public procurement matters, corporate/M&A and commercial law.
In the public procurement field, Cristian advises clients in relation to their participation in public procurement procedures, including in the national defence sector, as well as in challenges before the National Council for Solving Public Procurement Complaints and the competent courts.
Cristian also specializes in private-sector corporate acquisitions, corporate and operational restructuring projects, cross-border transactions, domestic and international joint ventures and similar partnerships, as well as commercial contracts.
Areas of expertise:
private-sector corporate acquisitions and privatizations
reorganization of corporate and commercial business
cross-border transactions
domestic and international joint ventures and similar partnerships
commercial contracts review, drafting and negotiation
public procurement procedures
Representative Cases and Transactions
public procurement litigation cases on behalf of a major transnational company active in water supply and waste management in major projects in Romania
advice to a large international construction company on several public procurement projects; assistance during discussions and negotiations with the contracting authorities, including the construction of various sections of the Brasov-Oradea highway and the construction of the ring road of Satu-Mare city
assistance to a leading German group specialized in infrastructure, engineering and building services during various development projects in Romania, including the construction and operation of the wastewater treatment plants from Sf. Gheorghe, Sibiu and Alba Iulia
advice to a large company specialized in projects on pipeline and plant construction in connection with the public procurement project related to the construction and operation of the interconnection pipeline of the National Gas Transmission System of Romania with the National Gas Transmission System of Moldavia
assistance with the participation of a leading worldwide provider of credit ratings, research, and risk analysis in certain public procurement procedures organized in Romania
advice to a worldwide investment fund in relation to the acquisition of three Romanian farms and of a corporate vehicle specialized in agricultural management, valued at over 40 million EUR (one of the major Romanian transactions from 2013)
indirect acquisition of the local subsidiary of a larger German distributor of metal products by one of the largest European companies specialized in trading steel and steel products
advice to the local division of a global company active in various industries such as safety, security and protection, healthcare, electro and communications and graphics, in relation to the integration of the local subsidiary of one of the world's top 3 manufacturers of bonded abrasives for industrial use, including restructuring of the business patrimony and client portfolio of the integrated company
advice to a major German company acting in the automotive sector in relation to the acquisition of two Romanian companies specialized in the manufacturing of automobile and industrial parts
assistance with the entry on the Romanian market of an American private equity firm making investments in middle-market companies through the acquisition of two Romanian agricultural companies owning and operating more than 7,000 hectares of agricultural land
Accolades
Included in international rankings since 2022; most recently:
Rising Star, Project Development (IFLR 1000, 2023)
Recommended, PPP and Procurement (Legal 500, 2023)
Rising Star, Project Development (IFLR 1000, 2022)
"Talented lawyer; (…) I am impressed by the volume of work he is able to cover and by his ability to identify risks and propose reliable legal solutions."
(Legal 500, 2022)
Education
Cluj-Napoca Babes-Bolyai University Law School, Law Degree
Memberships and Affiliations
Notable Contributions
speaker at the Modern Management in Public Administration Conference, organized by Oameni si Companii (2019)