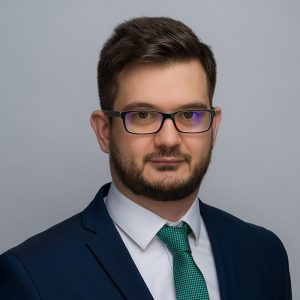 Expertise
Alexandru is a Romanian lawyer with more than 11 years of professional experience.
He focuses his practice on public procurement and defense procurement, corporate and commercial law, and telecommunications and media.
He assists clients in relation to their participation in public procurement procedures, from bid preparation to claims against the procedure results, drafting, reviewing and negotiating commercial and corporate contracts, telecommunications and media aspects, energy law (in particular natural gas related projects) and military procurement and offset related matters.
Areas of expertise:
public procurement
military procurement and offset related matters
drafting, reviewing and negotiating commercial and corporate contracts
corporate and M&A
telecommunications and media
energy law (in particular natural gas related projects)
Representative Cases and Transactions
assistance to a leading Austrian construction company in the public procurement procedure and subsequent litigation concerning the award of a EUR 400 million motorway construction contract, resulting in the successful signing of the contract by our client
assistance to two consortia of Spanish, Italian and Romanian companies in two of the largest public procurement procedures ever organized in Romania and in the subsequent litigation proceedings, concerning the award of four contracts for the upgrading of vital sections of Romanian railway, estimated at over EUR 2 billion
assistance to a consortium between two Spanish construction companies and a French incinerators / water treatment plants supplier in the public procurement procedure and subsequent litigation for the award of a EUR 150 million contract
assistance to a leading international military equipment provider in a EUR 60 million military procurement procedure organized by the Romanian State
assistance to a leading Austrian construction company in the public procurement procedure and subsequent litigations concerning the award of a 4-year framework agreement for the maintenance and repairs of the public roads in a major Romanian Municipality, valued at up to EUR 30 million
assistance to Opel Southeast Europe LLC in the successful restructuring of its business in Romania, involving the planning, drafting, negotiation, implementation and closing of both an asset deal (BTA) and a share deal (SSPA)
assistance to a high-profile Romanian executive entrepreneur, in the sale of his minority stake in the companies owning and operating the McDonald's restaurants in Romania
advice to a renowned German automotive company in the share deal concerning the purchase of the majority stake in the Romanian subsidiary of an essential supplier of the client
advice to a worldwide investment fund in relation to the acquisition of three Romanian farms and of a corporate vehicle specialized in agricultural management, valued at over EUR 40 million
advice to a major company in the automotive industry in connection with its post-privatization obligations and its restructuring
Telecommunications and Media
advice to the largest operator in mobile communications in all stages of implementation of its project to distribute television and media content on DTH and OTT platforms
advice to the largest operator in mobile communications in the outsourcing of its build, run, and related operational activities network
legal assistance to a major international satellite operator with respect to specific licensing requirements in Romania
advice to a major American telecom operator in relation to the Romanian lawful interception requirements
broad range of legal assistance and advice to Romania's leading broadcaster
Energy and Natural Resources
advice to a leading natural gas supplier and to its subsidiary ensuring the successful termination of an oil field concession agreement
advice to a leading natural gas supplier on various legal issues regarding natural gas supply and gas fraudulent consumption
advice to an international joint venture regarding the construction and operation of a major natural gas pipeline spanning multiple countries
Accolades
Included in international rankings since 2018; most recently:
Highly Regarded, Project Development (IFLR 1000, 2023)
Rising Star, PPP and Procurement (Legal 500, 2023)
Rising Star, PPP and Procurement (Legal 500, 2022)
Highly Regarded, Project Development (IFLR 1000, 2022)
"He has excellent legal skills and is very thorough in his work."
(Legal 500, 2022)
"Alexandru Aman has exceptional communication abilities during all the time he has worked for us, and a deep knowledge of the legal areas he specializes in."
(Legal 500, 2021)
Education
University of Bucharest Law School, Law Degree
Paris I Panthéon-Sorbonne University, Collège Juridique Franco-Roumain d'Etudes Européennes, Law Degree
Paris I Panthéon-Sorbonne University, Collège Juridique Franco-Roumain d'Etudes Européennes, Master Degree in International and European Business Law
Memberships and Affiliations
Notable Contributions
speaker at the annual Global Industrial Cooperation Association (GICA) Spring Conference 2023
speaker at event "Retail services to travellers – overview of Romanian framework", organised by the Embassy of France, Business France Romania, in collaboration with Lagardère Travel Retail, with the presentation "Management and operation of airport retail services for travellers – Overview of Romanian legal framework" (March 2022)
speaker at the webinar "ANAP Instruction no. 1/2021: Considerations on the amendment of the public procurement contract. Adjustment of the contract price. Practical aspects", organized by NNDKP (February 2021)
"European Telecom Infrastructure Sharing Guide – Romania chapter" (prepared for Olswang LLP, 2014-2015)
"Study on Mobile Satellite Services Authorisation Regimes, authorisations and enforcement in the EU Member States – Romania chapter" (prepared for the European Commission, 2014)