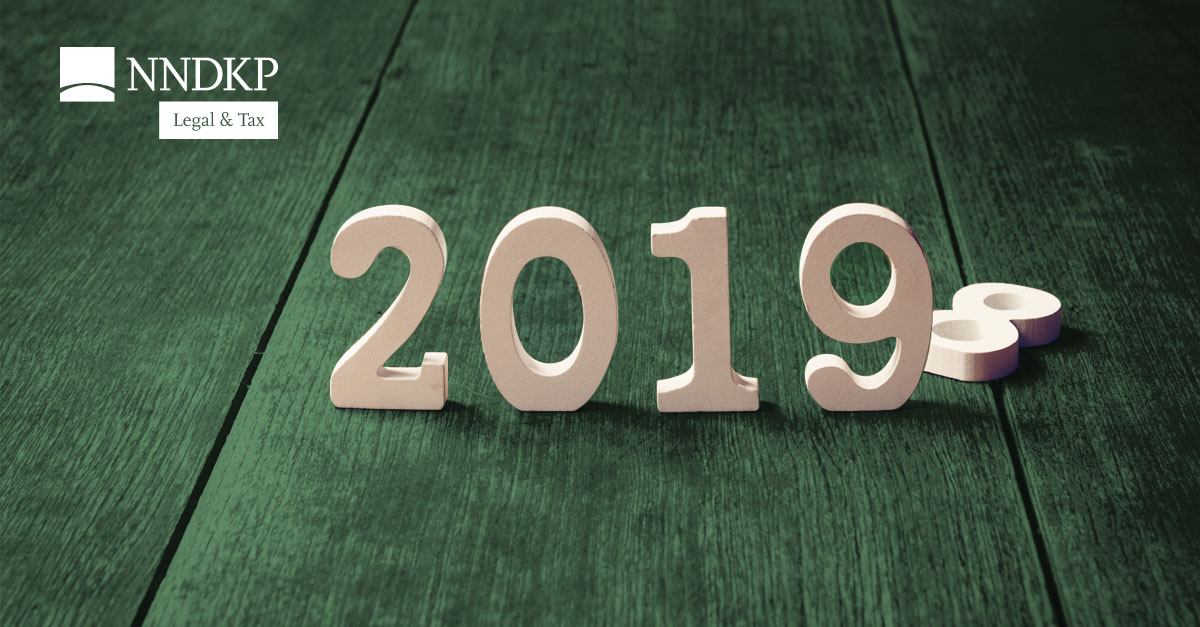 2018 – it has been a pleasure, 2019 – bring it on!
In 2018 we did what we have been doing best for the past 28 years: enjoyed the achievements and learned from the challenges, worked closely with our clients and celebrated together the end of a wonderful year.
We thank our clients for their trust, appreciation and for keeping us motivated in our journey towards continuous joint success!
It is a pleasure to present you with a recap of a yet another eventful and dynamic year for NNDKP.
10 years of Legal and Tax
NNDKP was the first Romanian law firm to propose to the domestic business environment built-in legal & tax solutions. 10 years ago, a newly created tax division, NNDKP Tax Advisory Services, started complementing the legal services offered by NNDKP's traditional practices.
Three new partners
We reconfirmed our strategy to fuel the internal development of our lawyers on all levels of seniority and continued to consolidate our position as a leader of the Romanian business law market by promoting three new lawyers to partnership positions, two in the Corporate/M&A practice and one in the Real Estate practice, each independently recognized as a market leading group.
New vectors close to us
A series of vectors has been invited to join NNDKP's quest as a pioneer of the Romanian professional services market and to design together new business development strategies:
Cornerstone Communications, the first CEE-focused investors relations company, (co-founded by Ludwik Sobolewski, the former CEO and President of the Warsaw Stock Exchange and former CEO of Bucharest Stock Exchange and Zuzanna Kurek, the former Business Development and Marketing Director of Bucharest Stock Exchange), together with whom we act in consonance, aiming to facilitate the access to our specific but compatible services, and turning business opportunities into concrete projects for our clients.
Concilium Consulting, a financial services advisory firm for private companies and the public sector, together with whom we aim to provide integrated consulting, legal and tax services to companies, lenders and investors, tailored to their business needs.
100 ideas for Romania
Our Co-Managing Partner, Ion Nestor was invited to join the 100 Romanian social and business personalities to speak in the editorial project "Romania 100 ideas" developed by Ziarul Financiar to celebrate 100 years since the Great Union Day.
Rankings in the international legal guides
We have captured the rankings of the 2018 editions of the international legal guides reconfirming once again our prime position on the Romanian legal business market:
Ranked first (Band 1) in 12 out of the 14 practice areas researched in Romania by Chambers Europe
Ranked first (Tier 1) in 14 out of 15 practice areas researched in Romania by Legal 500
Ranked first (Tier 1) in all four practice areas researched in Romania by IFLR 1000
Recommended firm for litigations and transaction matters, as well as prosecution in the IAM Patent 1000
Gold by WTR 1000, being the only firm awarded this distinction for both i) enforcement and litigation and ii) prosecution and strategy
The only law firm top ranked in all the five areas researched in Romania, specifically i) Copyright ii) Patent contentious, iii) Patent prosecution, iv) Trademark contentious and v) Trademark prosecution, by Managing Intellectual Property – IP Stars
Independent acknowledgements
"Law Firm of the Year in the Energy and Natural Resources sector" (The Times – Legal Innovation Romania)
"Law Firm of the Year in the Data Protection sector" (The Times – Legal Innovation Romania)
"Romanian IP Firm of the Year" for the fifth consecutive year (by Managing Intellectual Property (MIP))
Third time in a row "Law Firm of the Year in the Gambling Industry" (by Casino Inside)
Co-Founding Partners, Manuela Nestor and Ion Nestor named among the 1000 most influential business persons in Romania by leading economic newspaper, Ziarul Financiar
Three Partners included in the Hall of Fame by Legal500, the law firm active in Romania with the largest number of representatives included in this honoring class
One Partner included in the highly selected Top250 women in IP by Managing Intellectual Property (MIP)
Six female Partners named "Business Law Lady Lawyer of the Year" during various national Gala's dedicated to women
Sharing our knowledge and expertise
More than 60 events dedicated to the business community which were joined by NNDKP speakers and had over 5000 attendees across the country (Bucharest, Brasov, Cluj-Napoca, Iasi, Timisoara)
Over 15 sectors covered: Arbitration, Automotive, Banking & Financing Competition, Data Protection, Environment, Financial Services, Gaming, Human Resources, Labor and Employment, Intellectual Property, Insolvency Marketing, Pharmaceuticals and Healthcare, Public Procurement, Real Estate, Restructuring, Retail, Tax, Technology, Telecommunications, Transport & Logistics
More than 60 written contributions prepared by our lawyers and tax consultants on a wide range of topics and published in different international and domestic media outlets or online platforms
See you all in 2019!