Celebrating 30 years of challenging the standards
Last year, NNDKP celebrated 30 years of challenging the standards! For us this is an extraordinary achievement and we thank our team and clients for making this possible.
Throughout 2020, we celebrated this milestone through 12 visuals, drawing inspiration from nature when talking about our evolution.
We invite you now to watch our story in a video that captures our evolution and celebrates our achievements.
As we turn the page, we will continue to do what we know best: tackling the challenges and capitalizing on the opportunities that lie ahead.
Our journey continues.
---
Our story unfolded.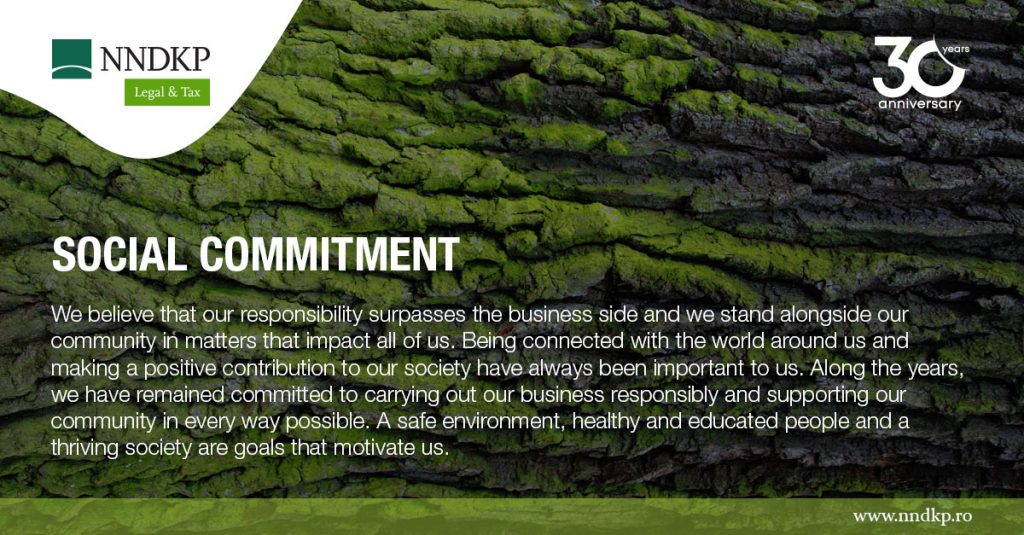 Like the bark protects the tree, we believe that it is also our responsibility to give back to our community by supporting causes that are close to our heart.
Along the years, our involvement has focused on two major pillars – health and education. Today, more than ever, these fields are of the utmost importance for our society, with effects in both the short and long term. Whether it is by way of sustainable business practices, pro bono work or philanthropy, we are committed to playing our part.
Our journey continues.
---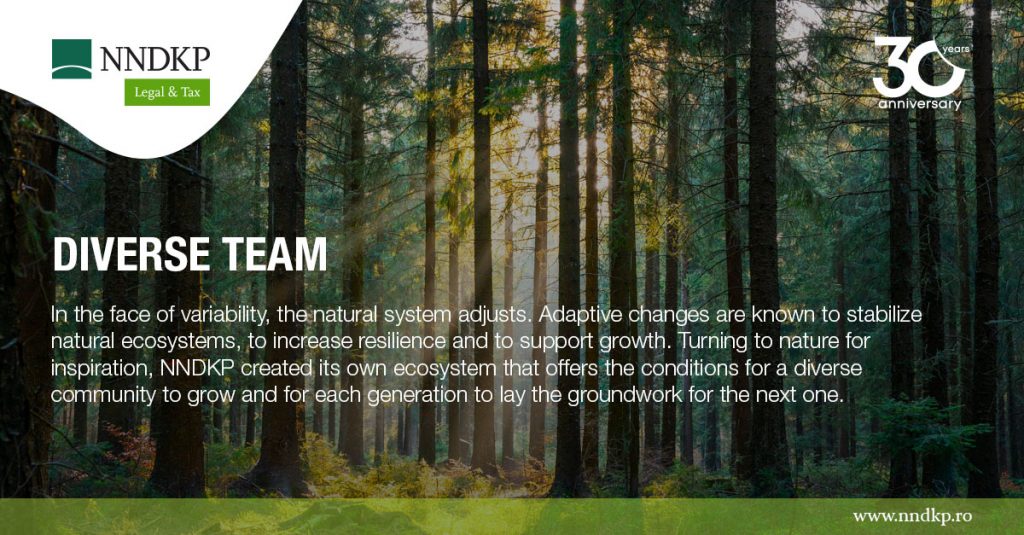 We are committed to embracing systems thinking and adaptability and applying them to our model as an integrated legal & tax services provider, regardless of the conditions set by the economic and social environment we are part of – and we know that the challenges are diverse.
But, so are we –our team includes a variety of personalities with diverse professional and personal backgrounds and experiences – we constantly refresh our firms' business approach to embrace them. We are devoted to a continuous exploration and broadening of our perspective and approach.
Our journey continues.
---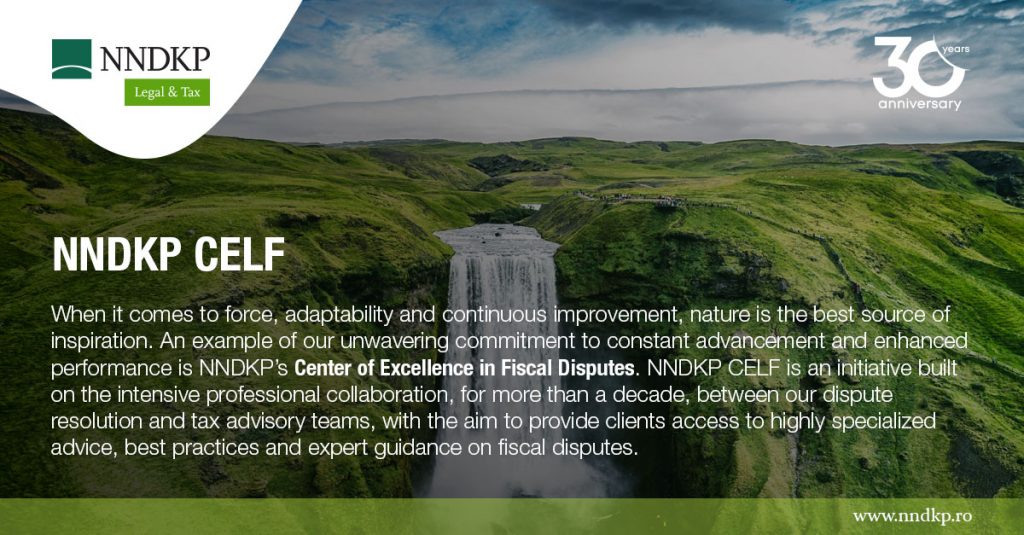 Nature is the best source of inspiration when it comes to strength stemming from continuous improvement. We always try to identify new ways to assist our clients and increase efficiency. NNDKP's Center for Excellence in Fiscal Disputes (NNDKP CELF) is just another example.
Through CELF, clients benefit from integrated services (legal and tax) throughout all stages of a fiscal dispute, starting with assistance in the initial stage and continuing with representation before the Romanian courts.
The experience accumulated in over 300 fiscal disputes managed in an integrated fashion by our team, and distilled into best practices by CELF, proves that our adaptability, diversification of services and the expertise of our professionals are key ingredients in our story of challenging the standards.
Our journey continues.
---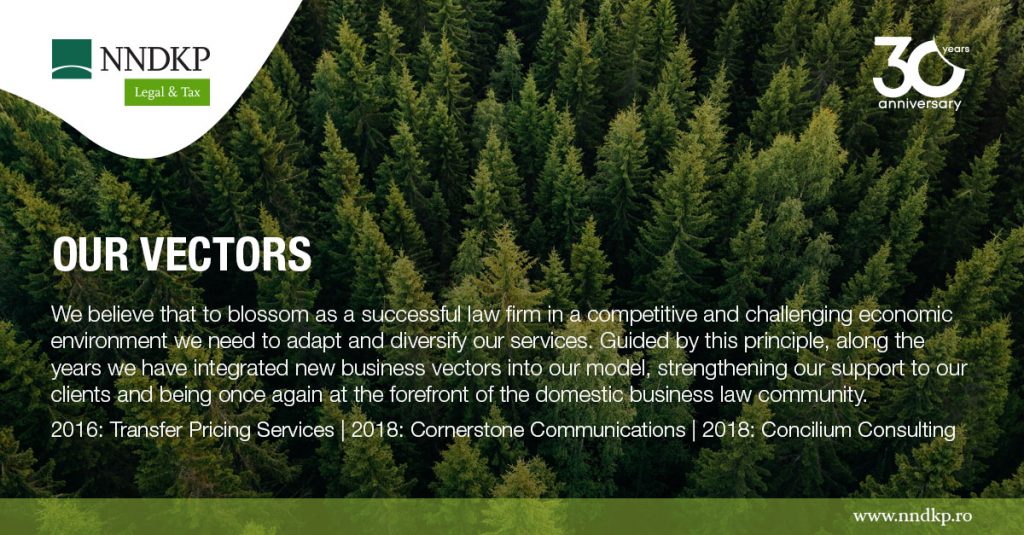 As one of Romania's largest and most respected legal & tax services providers, we have constantly looked for new ways to become increasingly more effective counsel for our clients. Thus, in the last decade we established strategic alliances with non-legal advisers with deep knowledge of the Romanian market, to help clients pursue their business interests in Romania, including outside the legal spectrum. These include:
Together we are consolidating a fruitful model of cooperation based on common values and goals, complementary competences and shared commitment to clients.
Our journey continues.
---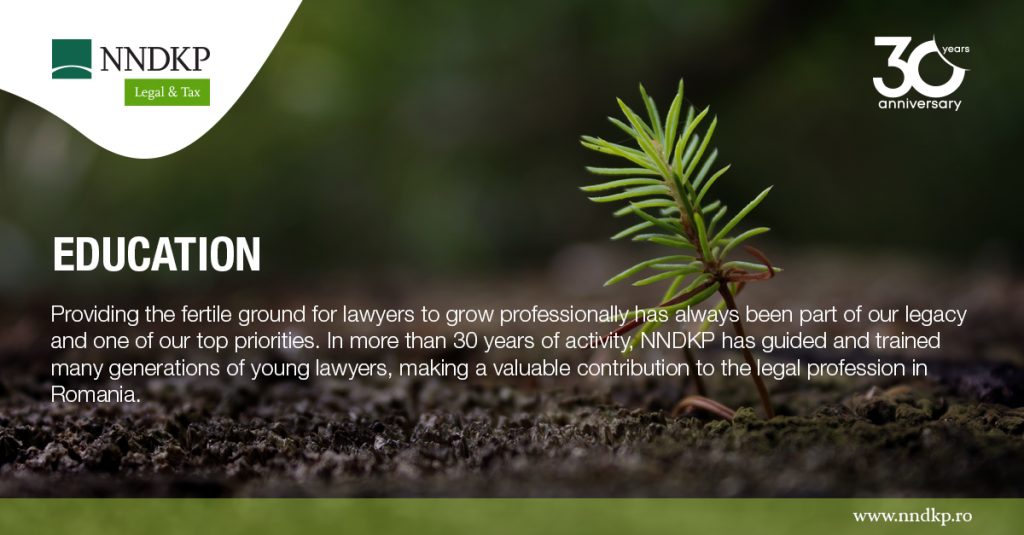 One of our top priorities has been to provide young generations of lawyers with the resources and the support needed to jump-start their legal careers.
Educational programs dedicated to law students are part of our heritage.
Every summer and autumn, our sowing seasons, students from law faculties across Romania learn and practice business law in our offices from Bucharest, Timisoara and Cluj-Napoca. Our programs are designed to offer students hands-on experience in practicing law under the mentorship and guidance of experienced lawyers from across our practices.
Through education we share and gain knowledge, interact and grow together, generation by generation.
Our journey continues.
---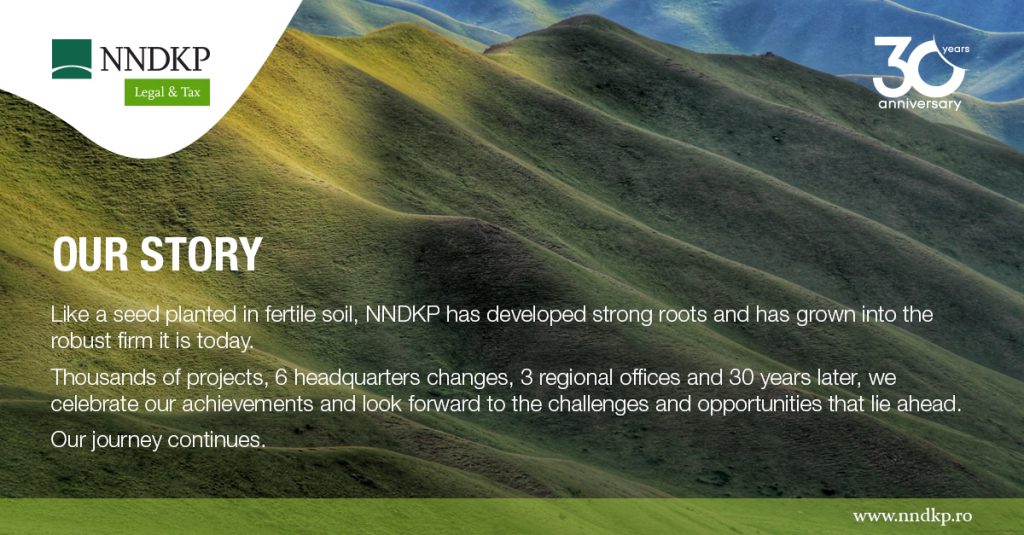 Like a seed planted in fertile soil, NNDKP has developed strong roots and has grown into the robust firm it is today.
In over 3 decades of practice, we have expanded our team and capabilities, adding new talent and making a strong contribution to the legal profession in Romania. We have grown from a partnership of 2 to a team of over 200 professionals, from one office to a strong network of offices across Romania, from a limited portfolio of projects to thousands of matters and deals carried out for our clients.
On our 30th anniversary, we reflect on the milestones we have reached, celebrate all our achievements, and look forward to the challenges and opportunities that lie ahead. Our journey continues.
---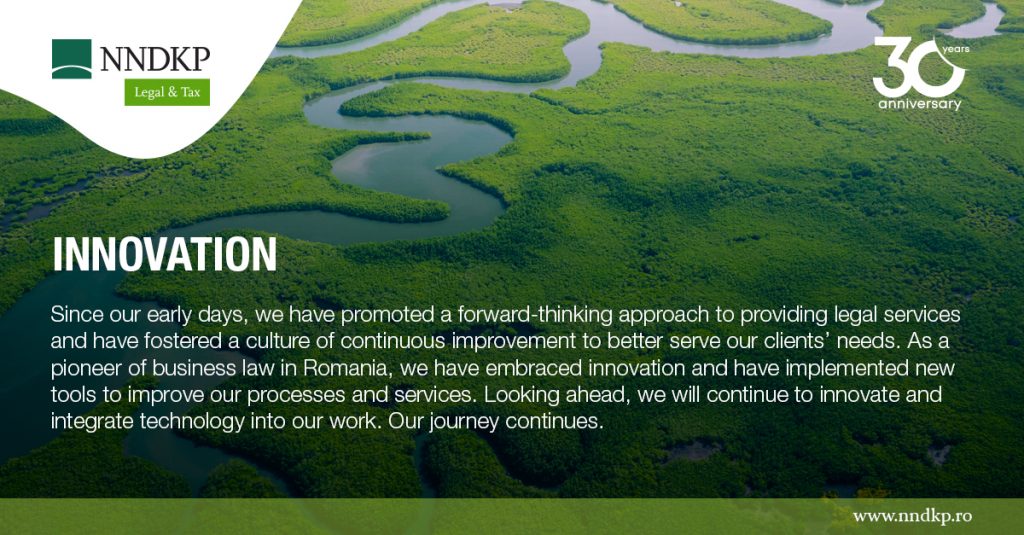 Nature has always adapted to evolve and thrive. Us, too, and since our early days, we have fostered a culture of continuous improvement to meet our client's needs and to adapt to the fast-changing economic landscape.
As a pioneer of business law in Romania, one of our goals was to add value to our services and processes that would benefit our clients. To this end, we have also embraced technology and implemented tools to increase efficiency in the fields of information management, knowledge management, business development, billing and budgeting. We are constantly looking for new feasible ways to evolve and adapt.
Our journey continues.
---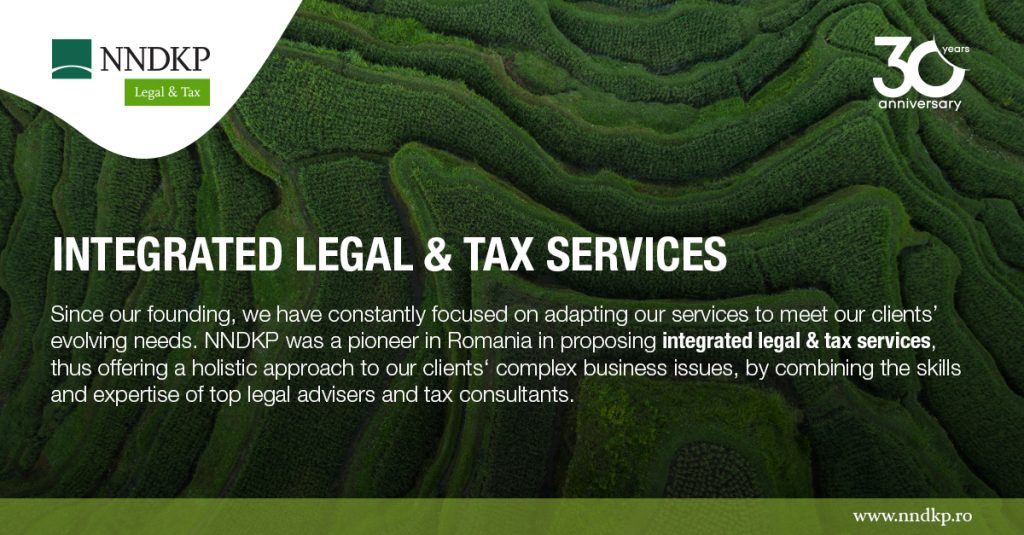 In nature, strength may come from collaboration. This is what experience has also taught us is key in business.
Since our founding, we have placed great emphasis on communicating with our clients, understanding the specifics of their businesses and adapting our services to meet their diverse needs. Anticipating our clients' need for legal and tax advice, NNDKP was a pioneer in proposing integrated legal and tax services in Romania. Through the close collaboration of our legal advisers and tax consultants, we offer a holistic approach to our clients' complex or sensitive business issues, helping them overcome challenges and maximizing opportunities.
Along the years, we have also expanded our practice areas to cover virtually all key areas of business law to keep pace with clients' evolving businesses but also with the fast-changing economic environment.
Our journey continues.
---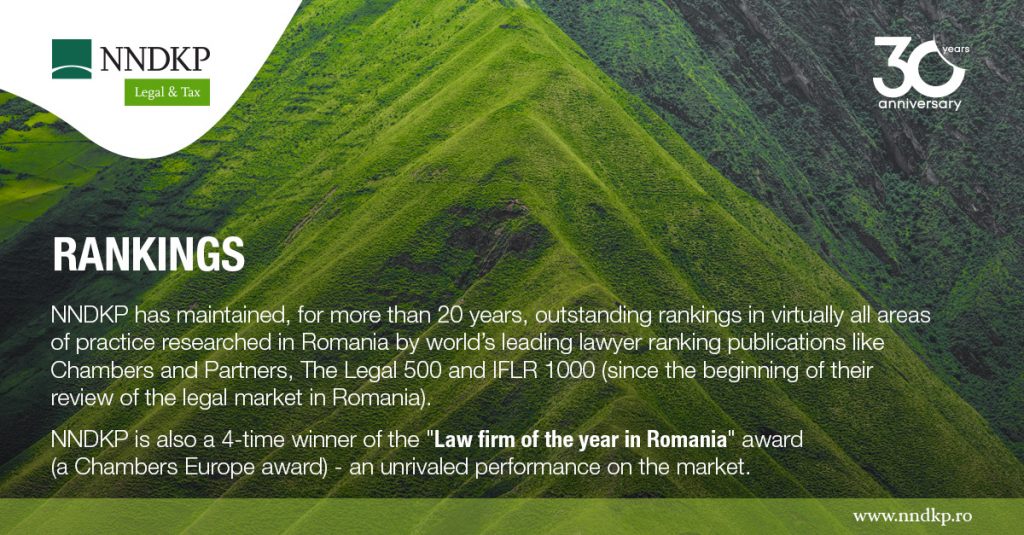 "A very strong, stable and reliable firm in the Romanian market. They have earned and upheld their leadership position despite other firms' rise and fall. They have a knowledgeable team delivering high quality cross-practice advice and excellent client service" client quote, IFLR 1000, 2019
#kudos to the entire NNDKP team for such an achievement!
Our philosophy is to constantly innovate and become better and increasingly effective partners for you. Ever since their first research that covered Romania, and for more than 20 years now, world's leading law firm-ranking publications have spoken highly of our dedication to the legal community, but also about our work and client service, a performance that we could have not achieved without your trust and appreciation.
We thank you, our clients, for your support and for keeping us motivated in our journey towards continuous shared success!
---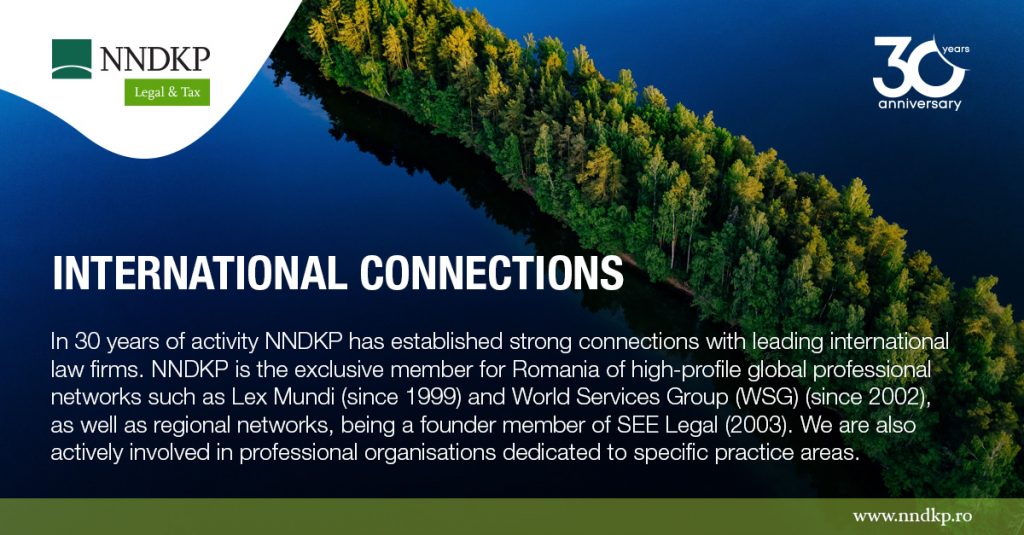 People, ideas, opportunities, businesses, everything moves and interacts across geographies and time zones – even during this time of change. Along the years, NNDKP has been nurturing strong and long-lasting relationships with law firms across the world, from global law firms to leading domestic independent outfits. These relationships built on the exchange of ideas and knowledge translate into better responses and a fresh approach to our clients' changing needs.
We stay connected, we learn from each other, we grow and we move forward together! Our journey continues.
---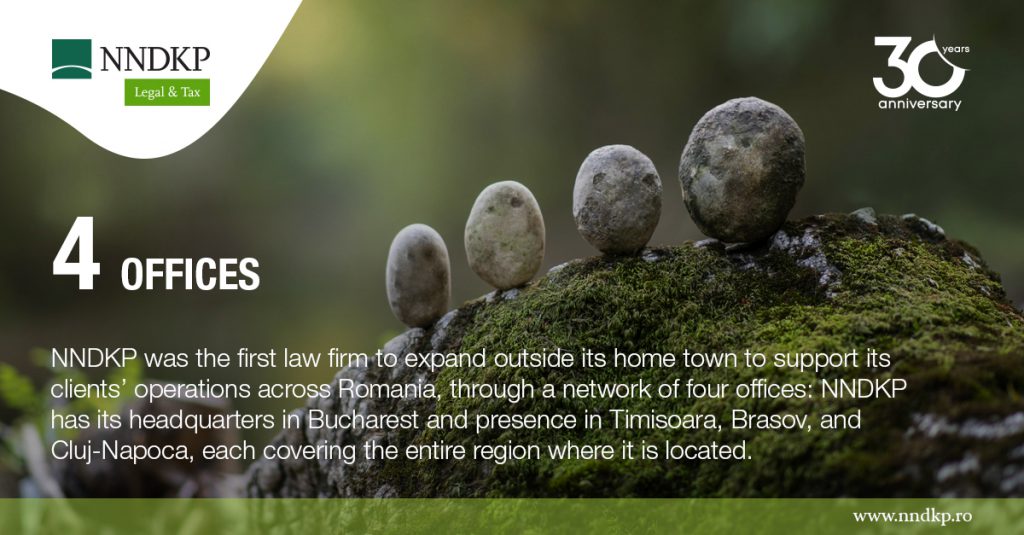 Our journey continued with a natural expansion process aimed at evolving our firm as well as extending and diversifying our client portfolio at national level. This process began with opening NNDKP's first regional office in Timisoara in 2004, followed by our offices in Brasov in 2007, and in Cluj-Napoca in 2011. This process was only possible through the involvement of suitable and committed local partners, who were willing to join our project and integrate their local know-how into the overall strategy of NNDKP.
Today, NNDKP stands on four strong pillars located in key regions across Romania. Our well-rooted teams contribute to the promotion of our values and vision and offer integrated legal and tax services, adapted to our clients' needs and the particularities of each region.
---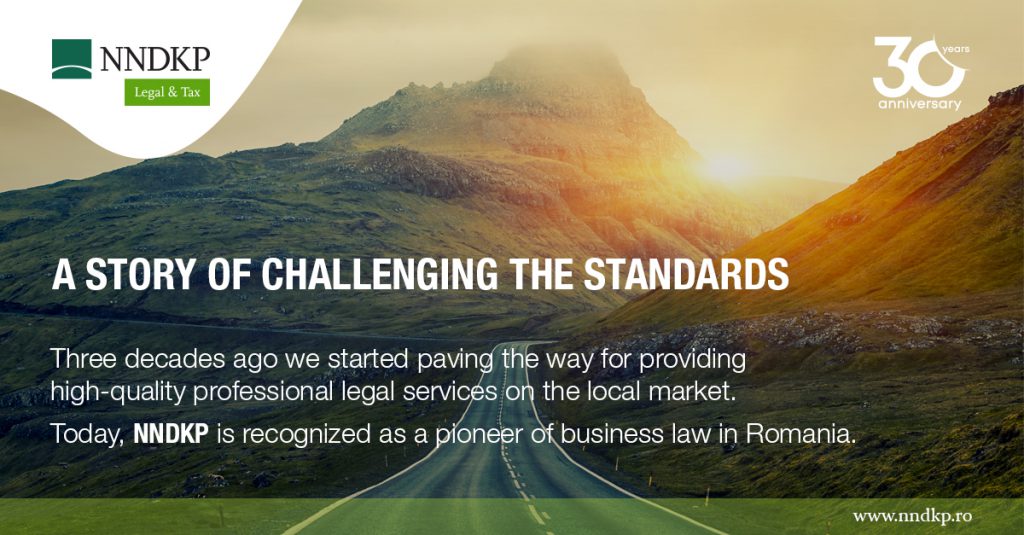 Thirty years ago, the Romanian entrepreneurial ecosystem was just a thought that needed to be nurtured into a concept. In this context, we set off on our journey to provide professional business law services in Romania.
Today, NNDKP is an entrepreneurial success story whose narrative thread follows a sustainable evolution, adapted to the dynamics of the Romanian business community.
Our journey continues.
---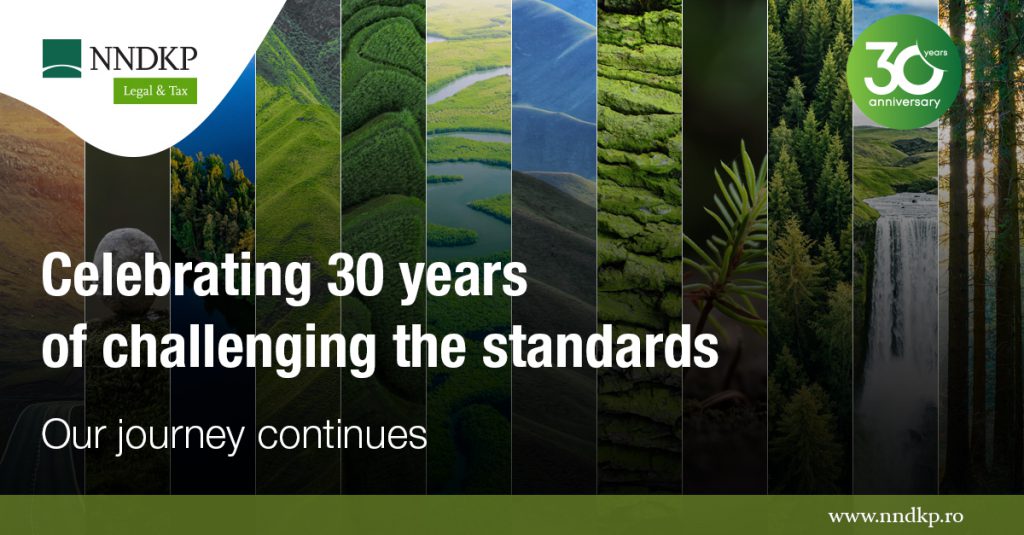 Nature is a perfect source of inspiration when talking about evolution. Adaptability, transformation, resilience – we find them all in NNDKP's organic evolution. 2020 marks our 30-year anniversary.
Throughout the year, we invite you to review key milestones in NNDKP's evolution, letting nature inspire us.