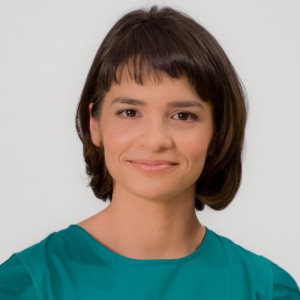 Expertise
Mirela has over 16 years of professional experience in corporate and commercial law, as well as in the energy and natural resources field.
Her field of expertise covers domestic and cross-border mergers & acquisitions, due diligence processes, corporate reorganizations, joint ventures and minority investments, drafting, negotiating and implementing a vast array of contracts.
She also specialises in energy law, renewable energy projects, oil and mineral resources industry matters, investments in conventional and renewable energy projects, having assisted along the years major clients active in the energy and natural resources sector in either regulatory or transactional matters. In the last years, Mirela has provided assistance mostly in offshore oil and gas projects.
domestic and cross-border mergers and acquisitions
corporate reorganisations
joint ventures and minority investments
contract negotiations
distressed assets and insolvency
insurance and private pensions
energy law
renewable energy projects
oil and mineral resources industry
consumer protection matters
Representative Cases and Transactions
advice to a leading online classified business in Europe with operations worldwide in the transfer of its general classified site in Romania to a South African multinational mass media corporation
part of the legal team assisting one of the leaders in the Central European gaming market in the acquisition of one of the top gaming company in Romania and in connection with the related financing
assistance to one of the most experienced real estate investment and development companies in Romania in the sale of three of its SPVs to a Group leader in private equity, real estate investment and development, and venture capital
advice to an international media enterprise in connection with its exit from a Romanian company holding a license to operate a TV channel
advice to a global multinational consumer goods company in the acquisition of the ice-cream division of one of the world's biggest dairy multinationals
assistance to two French investors in connection with the acquisition of the controlling interest in a Romanian company developing a solar farm project
Energy and Natural Resources
advice to one of the world's largest oil&gas companies regarding farming-in into the deep offshore portion of a Black Sea concession agreement
advice to one of the leading European integrated energy group involved in the renewable energy generation in relation to the possibility of challenging the changes to the green certificates support scheme imposed by the Romanian State, in the context of a blooming energy industry which was forced to suspend and in some cases terminate some investments
assistance to a major international turbines manufacturer in connection with the negotiation of an EPC contract with its Romanian client
legal assistance to a large Italian electricity trader in relation to electricity trading regulatory matters and in connection with a contentious procedure with one of its customers
assistance to a large German full-service project developer in relation to the development of wind and solar energy projects in Romania and in relation to its joint venture established in cooperation with Romanian entrepreneurs
advice to a global full-range supplier of solid wood and wood-based material, one of the first electricity cogeneration from wood biomass in Romania, in connection with the support schemes for renewable and high efficiency cogeneration
advice to a global technological leader and project developer in the wind industry in relation to their business in Romania (both regulatory and acquisition projects)
legal assistance to a US management fund in the potential acquisition of a 300 MW wind project and its interconnection to the grid
advice to the intermediation syndicate in the secondary public offering of 15% of the shares of the sole electricity transmission operator in Romania, owned by the Romanian state, in the first successful privatization of an energy company through the stock exchange in many years
advice to a US-based private equity fund specialized in building differentiated oil and gas businesses in relation to the acquisition of and exit from a Romanian oil&gas company focused on the rehabilitation of mature oil fields
Insurance and Private Pensions
assistance to an American multinational insurance corporation in restructuring its business in Romania within the context of compliance with the Solvency II Directive
assistance provided to one of the largest global providers of insurance, annuities, and employee benefit programs in relation to the disposal of its Romanian private pensions business
advice to one of the largest global providers of insurance, annuities, and employee benefit programs in relation to the direct and indirect change of control at the level of two Romanian life insurance undertakings in view of preparing for the implementation of the requirements under Solvency II Directive
advice to a leading global provider of risk management, insurance and reinsurance brokerage in relation to regulatory matters related to subsequent re-structuring operations at the level of the group and impact on its local insurance and reinsurance brokerage company
legal assistance to one of the largest European banking and financial services corporation in relation to regulatory matters having impact on the restructuring of the Group by means of IPO at the level of its European and Japanese insurance and investment management companies
general regulatory and corporate governance assistance to an American multinational insurance corporation in relation to its business in Romania
advice to one of the top ten Romanian insurance companies in the tentative acquisition of the Romanian company of one of the largest European insurance companies
advice to a leading French insurance company in its attempt to acquire controlling interests in two privately owned insurance carriers in Romania through competitive tender proceedings
Accolades
Included in international rankings since 2021; most recently:
Rising Star, Corporate and M&A (Legal 500, 2023)
Rising Star, Energy and Natural Resources (Legal 500, 2023)
Rising Star, Corporate/M&A (Legal 500, 2022)
Rising Star, Energy and Natural Resources (Legal 500, 2022)
"Mirela is an outstanding lawyer, extremely dedicated and a pleasure to work with."
(IFLR, 2023)
Education
University of Bucharest Law School, Law Degree
Leicester University, Master Degree in EU Commercial Law
Paris I Panthéon-Sorbonne Université, Collège Juridique Franco-Roumain d'Etudes Européennes, Law Degree (Maitrise en Droit, Droit Européen)
Memberships and Affiliations
Notable Contributions
contributor to NNDKP – COVID-19 Legal & Tax Resource Center
"Romanian Government Approves Draft Law on Mining Activities" (NNDKP, 2017) (co-author)
Contributor at "SEE Legal Guide on Restructuring and Insolvency – Romania chapter" (SEE Legal, 2016)
Contributor at "Legal Aspects of EU Energy Regulation" (Oxford University Press, 2015)
Contributor at "Survey Questions for Chambers Global Practice Guide – Energy: Oil and Gas" (2015)
"Southeast Europe Energy Handbook – Romania chapter" (SEE Legal, 2014)
"Getting the Deal Through: Electricity Regulation – Romania chapter" (Law Business Research, 2011)
"Getting the Deal Through: Electricity Regulation – Romania chapter" (Law Business Research, 2009)