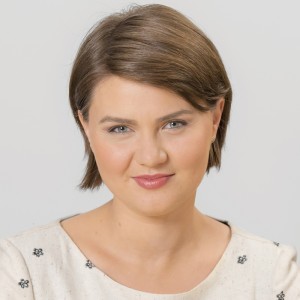 Expertise
Mădălina has over 15 years of professional experience, specialising in corporate and commercial law, domestic/cross-border M&A, insurance and private pensions matters, health and pharma aspects.
She is highly experienced in advising on matters related to commercial and corporate law, private sector acquisition transactions, including by participating in due diligence activities and in drafting, negotiating and implementing various types of agreements.
She has also assisted clients active in the insurance field with a diverse range of regulatory matters, implementation of various products, as well as in M&A and business transfer projects.
In terms of health and pharma she has assisted various clients with a plethora of regulatory matters, as well as with the implementation of various projects/clinical trials.
Areas of expertise:
insurance and private pensions sector
corporate and commercial law
domestic and cross-border mergers and acquisitions
pharmaceuticals and healthcare matters
Representative Cases and Transactions
acquisition on the Romanian market by one of the leading pharmaceutical companies of the oncology portfolio from one of its peers, sale of its vaccines business to the same major pharmaceutical company and transfer of its over-the-counter/consumer healthcare businesses into a joint venture
assistance to two leading companies in the gaming market in relation to the acquisition of participations at the level of several Romanian entities holding gambling licenses
assistance to one of Europe's leading cinema groups in connection with the direct/ indirect acquisition from one of the largest European cinema operators of participations at the level of 3 Romanian entities (some of them active in the cinema business)
disposal of Switzerland's leading out-of-home advertising company's interests in Romania and its exit from the Romanian out-of-home advertising market
advice to the intermediation syndicate in the secondary public offering of 15% of the shares of the sole electricity transmission operator in Romania, owned by the Romanian state, in the first successful privatization of an energy company through the stock exchange, in many years
assistance to an Israeli based optical products manufacturer and distributor in connection with the take-over of the manufacturing business of one of its Romanian suppliers
assistance to one of the leading listed property companies in Europe regarding the implementation of the merger between two of its local subsidiaries
advice to one of the leading listed property companies in Europe regarding the reorganization of 8 of its SPVs
assistance to a Swedish investments fund in relation to the acquisition of the concrete business from the largest local producer of concrete precast elements
Insurance and Private Pensions
advice to a major European insurance group in connection with the potential acquisition of a Romanian general insurance company
assistance to a major European insurance group in relation to the indirect acquisition of a participation at the level of a Romanian insurance undertaking
assistance to a leading global provider of risk management, insurance and reinsurance brokerage in relation to regulatory matters related to subsequent re-structuring operations at the level of the group and impact on its local insurance and reinsurance brokerage company
assistance to an American multinational insurance corporation relating to insurance regulatory, insurance contract law aspects, corporate aspects, implementation of various distribution channels for its insurance products
advice to one of the largest European banking and financial services corporations in relation to regulatory matters having impact on the restructuring of the Group by means of IPO at the level of its European and Japanese insurance and investment management companies
assistance to one of the largest global providers of insurance, annuities, and employee benefit programs in connection with the implementation of bancassurance distribution channel and pre-litigious aspects related to bancassurance agreements
advice to one of the top ten Romanian insurance companies in the tentative acquisition of the Romanian company of one of the largest European insurance companies
assistance to one of the largest global providers of insurance, annuities, and employee benefit programs in relation to the disposal of its Romanian private pensions business
advice to one of the largest global providers of insurance, annuities, and employee benefit programs in relation to the direct and indirect change of control at the level of two Romanian life insurance undertakings in view of preparing for the implementation of the requirements under Solvency II Directive
European reorganization of the insurance activity of an American multinational insurance corporation, including on connection with the transfer of its insurance business transfer to its newly established local branch
Accolades
Rising Star, M&A (IFLR 1000, 2023)
Rising Star, M&A (IFLR 1000, 2022)
Education
University of Bucharest Law School, Law Degree
University of Bucharest Law School, Master Degree in Advanced Private Law
Memberships and Affiliations