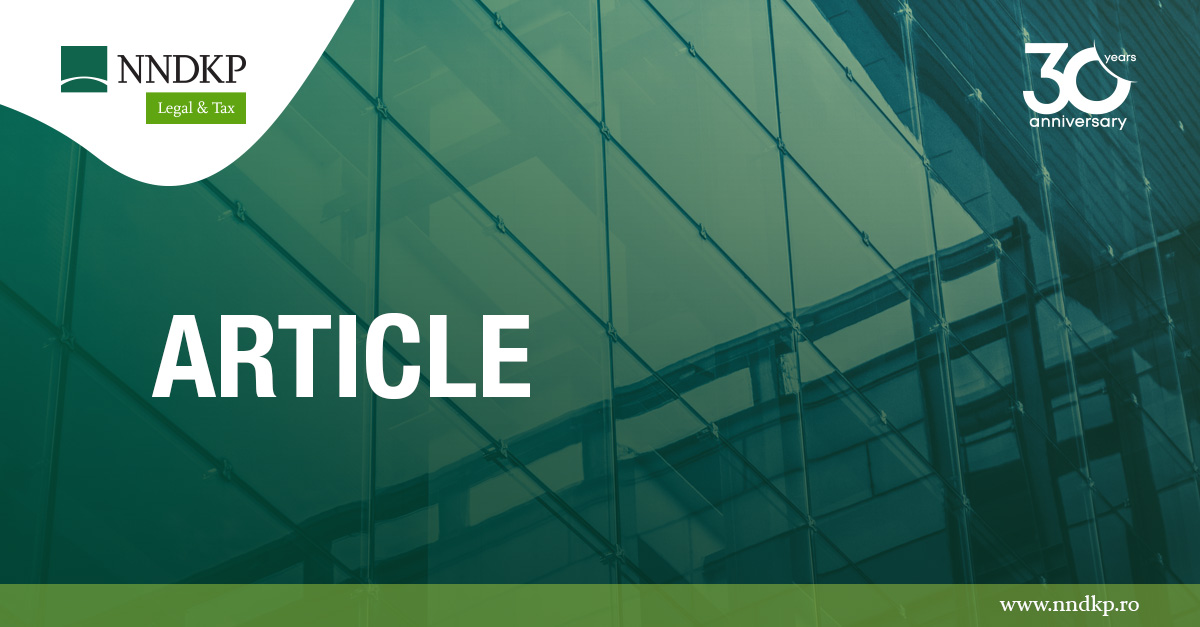 A New Wave of Insolvencies? Possible Preventive Restructuring Measures in the Implementation of the European Directive on Preventive Restructuring
31.03.2020 – Authors: Alina Radu & Valentin Voinescu
The article is available in English and Romanian. Please scroll down for Romanian language./Articolul este disponibil în limba engleză și în limba română.
This legal analysis focuses on the typical case of a company that although it is not directly targeted by the measures established in order to prevent the spreading of the novel coronavirus, it still registers a decrease of demand, of the level of proceeds and of the production of goods and services.
Therefore, we will refer to the main categories of creditors of a company and the fact that the regulations instated so far in order to prevent the financial impact of the coronavirus pandemic, do not suspend the debtor's insolvency filing duties.
Budgetary creditors
Budgetary creditors play an extremely important part in deciding the evolution of a company. According to the Law 85/2014 (the "Insolvency Law"), a claim for opening the insolvency procedure may be filed only if the level of the amounts owed to State budget is lower than 50% of the total declared debt of the relevant debtor. Therefore, it is obvious that an insolvency claim is highly dependent on the level of amounts owed to budgetary creditors.
Following the measures recently enacted by the Romanian government, we note that the due date of fiscal obligations has not been postponed. Moreover, the amount thereof has not been diminished – at least, this is the case for those due on March 25th.
The most important fiscal relaxation in place is that no penalties will be calculated with respect to these obligations and no enforcement measures will be ordered. However, the immediate consequence of these measures is that the State will have uncontested and liquid debts against the companies that do not pay.
Whether these receivables are indeed "not due" can generate complex debates, due to the fact that these continue to be, in general, receivables that may be subject to enforcement, given that this derogation is assumed by creditors only temporarily, and may nevertheless be raised by a third party. Additionally, these receivables may be taken into consideration when a company is subject to insolvency claims and financial difficulty verifications set forth by the law, as well as when drafting the consolidated list of creditors in the insolvency procedure.
Credit institutions  
The recent decision of the Supervision Committee of the National Bank of Romania comprises a series of interpretation elements. Among these, credit institutions and non-banking financial institutions are allowed not to set up provisions in certain conditions for the deferred payment and restructuring of certain loans, as well as not to access the reserves created, in accordance with the European regulations. However, there are many elements and interpretations to be taken into consideration in this respect.
In the same context, the Romanian Government adopted an emergency ordinance intended to ensure the deferred payment of installments related to loan agreements and leasing contracts concluded with credit institutions or non-banking financial institutions. The ordinance addresses to both natural and legal persons that were affected by the measures taken in the context of the pandemic outbreak.
The suspension of the payment of the installments may be obtained, only upon request, for a period ranging from one to nine months, but will, in any case, be granted only until December 31, 2020, at the latest.
For more details in connection with the provisions regulating this measure, please consult the document available here.
We should bear in mind that credit institutions and non-banking financial institutions that will conclude bilateral deferred payment agreements will not be protected from the actions of the other creditors that may take measures against the debtor companies.
It is well known that Romania has the lowest level of financial intermediation in the European Union, and, at the same time, an extremely high level of supplier credit. Therefore, preventing banks to take measures against the debtors will not end the supplier credit obstruction and, as a consequence to this obstruction, the process of companies entering insolvency.
Utilities providers, registered office owners  
The Government Emergency Ordinance 29/2020 ("GEO 29") provides certain measures for small and medium-sized companies that (totally or partially) interrupted their activity pursuant to the decisions issued by the relevant authorities and were issued an emergency situation certificate. These companies may be granted a deferred payment facility for utilities suppliers and for the payment of the rent for the real estate property used as registered or secondary office. Nevertheless, these facilities are granted only for the period of the state of emergency. Consequently, when this is over, the utilities suppliers will continue to calculate penalties and may instate enforcement measures or file requests to initiate the insolvency procedure. Furthermore, even when a cause to be exempt from liability (such as force majeure) is invoked, this cannot prevent the instatement of precautionary measures (attachments), which may cause a chain reaction.
Other unsecured creditors, including affiliates 
Other creditors, such as suppliers and affiliates are not subject to any measure. Therefore, they are still entitled to resort to all the available contractual and legal measures (collection of interest, enforcement).
Obligations related to the initiation of the insolvency procedure
The Insolvency Law has not been amended so far, following the instatement of the state of emergency. Hence, a debtor which becomes insolvent still has the obligation to file in court a request to initiate the insolvency procedure, within a term of 30 days from the occurrence of this state. Nevertheless, if the debtor participates in good faith in out-of-court negotiations having as subject matter the restructuring of its debts, the company only has the obligation to file the relevant request in court within 5 days after the negotiations have failed. Furthermore, we note that the law somehow intends to ensure a safeguard for the debtor by prohibiting the initiation of the insolvency procedure after the approval of the arrangement with the creditors (in Romanian "omologarea concordatului preventive").
Failure to comply with the legal terms established for filing the request to initiate insolvency triggers criminal liability, in accordance with Art. 240 of the Romanian Criminal Code.  Thus, for companies that met the requirements for declaring the state of insolvency the situation is slightly clearer, given that it is not specifically set forth otherwise. However, the legislative framework completely lefts out companies whose financial situation deteriorates during this state of emergency.
Considering the above and the fact that all the available instruments were maintained at legislative level, there is a clear possibility that the number of requests to initiate the insolvency procedures will increase. Furthermore, in accordance with Decision 417/2020 of the Superior Council of Magistracy, requests filed pursuant to Art. 66 para. (11) of the Insolvency Law are considered as urgent requests, and debtors and creditors that met the legal requirements at the date when the decree instating the state of insolvency was published on March 16, may file requests to initiate the insolvency procedure and obtain, until these are resolved, the temporary suspension of the enforcement procedures.
Claims with respect to the arrangements with the creditors (in Romanian "cererile de concordat preventiv") – the only currently available preventive restructuring instrument – due to financial difficulty reasons, have become even more difficult to exercise. That is due to the fact that the temporary stay of enforcement proceedings initiated before the approval of the arrangement with the creditors, and the approval procedure itself requires the intervention of a court of law. Given that the decision of the Superior Council of Magistracy did not deem these causes urgent, in the current context, debtors in financial difficulty cannot invoke the relevant legal provisions.
Consequently, there are no adequate means of restructuring and insolvency prevention that may be resorted to by debtors in financial difficulty, as a result of the crisis caused by the novel coronavirus pandemic outbreak. On the contrary, based on the actual measures instated, the only option is to declare insolvency.
At the same time, fiscal and banking creditors are exposed to possible adverse actions initiated by the unsecured creditors, which does not seem to have been intended when the current measures were instated.
Anticipating the potential wave of insolvencies, Germany considered that it is necessary to suspend the insolvency fillings until 30 September 2020. Consequently, Romania should adopt as well more specific regulatory measures in this field, especially during the state of emergency. 
In the context in which Romania is in the process of implementing the Directive on Preventive Restructuring and considering the absence of legal provisions favoring the restructuring of debtors in difficulty, we consider it is recommended to consider the following measures:
A dramatic simplification of the preventive restructuring framework (the current arrangement with the creditors) consisting in allowing to conclude extrajudicial preliminary agreements suspending payments and enforcement procedures that precede the actual restructuring, especially when there is an agreement from the fiscal and bank creditor, in cases where the level of these debts exceeds certain limits;
Acknowledgment of non-financial causes, such as the loss or suspension of a key contract for the debtor's activity (cause expressly set forth in the Directive on Preventive Restructuring) or a significant decrease of the demand in the past 30 days.
These may significantly affect a company, as they may determine the capacity of a debtor to meet its current or future obligations, while avoiding a serious materialization of the situation in the following months.
Implementing with priority the measures intended to ensure the actual restructuring of debts towards the State budget, by cancelling them or by extending their term, while maintaining the currently employed workforce – a first step in this direction was made by GEO 29 which, in order to revitalize and avoid the initiation of the insolvency procedure against debtors in difficulty, offers the possibility to restructure debts towards the State budget, while extending the term within which debtors may notify the fiscal bodies (October 30, 2020);
As a matter of fact, this aspect should constitute a priority of the fiscal creditor that would have multiple benefits resulting from the prevention of bankruptcy and the maximization of long-term State budget income ensured by the fact that companies are maintained in operation.
Establishing a minimum payments interim plan (in order to maintain the supplier chain), for a period that is established in advance in order to ensure the continuity of the debtors' operations, with the final objective of revitalizing their activity;
Appointing a restructuring expert that will have duties to supervise, provide information to the creditors in order to ensure an actual transparency framework and stop/report unlawful or illicit operations, and prepare a restructuring proposal.
In the current context, we notice a natural preoccupation for prioritizing sanitary measures and those having an immediate impact over the activity of the companies affected by the imposed restrictions.
However, we reiterate that it is essential to pay immediate attention as well to the economic measures intended to ensure the viability of small and large companies involved in a complex series of contractual relations. Such measures would also ensure to maintain the workplaces offered by the relevant companies.
Accelerating, at this early stage, the issuance of legislation that would create an efficient restructuring framework is one of the measures that might prevent the occurrence in many companies of a serious state of degradation, which may cause the closing or bankruptcy thereof.
---
Un nou val de insolvențe? Posibile măsuri de restructurare preventivă în implementarea Directivei europene de restructurare preventivă
În acest articol ne concentrăm pe analiza implicațiilor juridice, prin raportare la un caz tipic, respectiv o societate comercială care, pe fondul climatului economic rezultat din măsurile dispuse pentru prevenirea răspândirii noului coronavirus dar fără a fi în mod direct vizată de interdicțiile prescrise, înregistrează, în același timp, o scădere drastică a cererii (prin efectul direct și indirect al măsurilor de distanțare socială), o scădere a încasărilor (blocajul creditului furnizor) și o scădere a producției de bunuri și servicii.
Analiza are în vedere categoriile principale de creditori ai unei societăți comerciale și menținerea obligativității introducerii cererii de deschidere a procedurii insolvenței, prin raportare la reglementările și măsurile dispuse până la această dată pentru prevenirea răspândirii noului coronavirus.
Creditorii bugetari
Creanțele bugetare au un rol extrem de important în deciderea sorții unei societăți, întrucât conform Legii nr. 85/2014 ("Legea Insolvenței"), cererea de deschidere a insolvenței poate fi introdusă de debitor doar dacă cuantumul creanțelor bugetare este mai mic de 50% din totalul declarat al creanțelor acelui debitor.
Astfel, analizând măsurile guvernamentale dispuse se observă că scadența obligațiilor fiscale nu a fost amânată, iar cuantumul acestora nu a fost redus, cel puțin pentru termenul de pe 25 martie, ci doar nu se calculează penalități și nu se iau măsuri de executare silită. Consecința este că societățile comerciale care nu plătesc au creanțe certe și lichide bugetare asupra acestora.
Aspectul "inexigibilității" acestor creanțe implică o discuție complexă, având în vedere că acestea sunt totuși creanțe în general apte a fi aduse la îndeplinire pe calea executării silite, limitarea fiind asumată de creditor temporar, dar posibil pot fi invocate de un terț sau luate în calcul din perspectiva testelor legale pentru insolvență și dificultate financiară, precum și din perspectiva calculelor și includerii pe tabelul creditorilor.
Instituțiile de credit
Decizia recentă a Consiliului de Supraveghere al Băncii Naționale a României cuprinde o serie de elemente de interpretare care permit necalcularea de provizioane în anumite condiții pentru amânarea la plată și restructurarea unor credite, precum și accesarea rezervelor constituite în conformitate cu reglementările europene. Există însă multe nuanțe și aspecte de interpretare de luat în calcul.
Tot în același context, Guvernul României a adoptat o ordonanță de urgență prin care se urmărește amânarea plății ratelor aferente contractelor de credit și contractelor de leasing încheiate cu instituții de credit sau instituții financiare nebancare, atât pentru persoanele fizice, cât și pentru persoanele juridice care au fost afectate de măsurile de măsurile luate în contextul pandemiei. Suspendarea plății ratelor poate fi obținută, la cerere, pentru un termen de o lună până la 9 luni, dar nu mai târziu de 31 decembrie 2020.
Mai multe detalii în legătură cu prevederile acestei măsuri pot fi regăsite în documentul disponibil aici.
În orice caz, trebuie avut în vedere că instituțiile de credit și instituțiile financiare non-bancare care își vor asuma bilateral amânări la plată nu vor fi protejate de acțiunile celorlalți creditori care ar putea lua măsuri împotriva societăților debitoare.
Având în vedere ca România are cel mai scăzut nivel de intermediere financiară din Uniunea Europeană și, în același timp, un nivel extrem de ridicat al creditului furnizor, împiedicarea băncilor de a lua măsuri împotriva debitorului nu pune capăt unui blocaj al creditului furnizor și al intrării in insolvență ca urmare a eșecului acestei componente de creditare a societăților comerciale.
Furnizorii de utilități, proprietarii sediului social
Conform prevederilor Ordonanței de Urgență nr. 29/2020 ("OUG 29"), pentru întreprinderile mici și mijlocii care și-au întrerupt activitatea (total sau parțial) în baza deciziilor emise de autoritățile publice competente și care dețin certificatul pentru situații de urgență se instituie o amânare la plată pentru furnizorii de utilități, cât și pentru plata chiriei pentru imobilul cu destinație de sediu social și de sedii secundare. Cu toate acestea, aceste facilități sunt acordate doar pe perioada stării de urgență, astfel încât după trecerea acesteia, furnizorii vor continua să calculeze penalități și pot lua măsuri de executare silită sau să introducă cereri de deschidere a procedurii de insolvență. În plus, invocarea unei cauze de exonerare de răspundere (forța majoră) nu poate preveni luarea de măsuri asigurătorii (popriri) care pot provoca reacții în lanț.
Alți creditori chirografari, inclusiv afiliații
Ceilalți creditori, inclusiv furnizori și persoane afiliate nu sunt supuse niciunei măsuri, cu consecința rămânerii la dispoziția acestora a tuturor măsurilor contractuale și legale disponibile (percepere dobânzi, executare silită).
Obligații cu privire la deschiderea procedurii insolvenței
Conform Legii Insolvenței, care la acest moment a rămas nemodificată, debitorul aflat în stare de insolvență este obligat să adreseze tribunalului o cerere de deschidere a procedurii, în termen de 30 de zile de la apariția acestei stări. Cu toate acestea, în cazul în care debitorul este angrenat cu bună-credință în negocieri extrajudiciare pentru restructurarea datoriilor sale, obligația de a adresa cererea tribunalului incumbă debitorului numai după un termen de 5 zile de la eșuarea negocierilor. În plus, nici după omologarea concordatului preventiv nu se poate deschide procedura față de debitor, legea încercând în acest fel salvgardarea situației debitorului.
Nerespectarea termenelor legale stabilite pentru introducerea cererii de deschidere a insolvenței duce la antrenarea răspunderii penale, conform art. 240 din Codul penal român.
Astfel, pentru societățile care îndeplineau condițiile stării de insolvență la data decretului prezidențial privind declararea stării de urgență, lucrurile sunt mai clare, existând în mod evident obligația introducerii cererii. În schimb, cadrul legislativ este neclar pentru societățile a căror situație financiară se deteriorează pe parcursul acestei stări de urgență.
Față de cele de mai sus și având în vedere că au fost menținute legislativ toate instrumentele disponibile, există clar posibilitatea unei creșteri a cererilor de deschidere a procedurilor de insolvență. De asemenea, în conformitate cu hotărârea Consiliului Superior al Magistraturii nr. 417/2020, sunt considerate cauze urgente cererile întemeiate pe articolul 66 alin. (11) din Legea Insolvenței, debitorii si creditorii care la data decretului din data de 16 martie privind declararea stării de urgenta îndeplineau cerințele legale, pot introduce cereri cu privire la deschiderea procedurii insolvenței, putând obține până la soluționare suspendarea provizorie a executărilor silite.
Cererile de concordat preventiv (singurul instrument de restructurare preventivă existent în acest moment) pe motive de dificultate financiară sunt îngreunate întrucât suspendarea provizorie a urmăririlor silite înainte de omologarea concordatului, cât și procedura de omologare propriu-zisă presupune intervenția instanțelor. Cum hotărârea CSM nu a considerat că acestea din urmă reprezintă, în contextul actual, cauze urgente, debitorii aflați în dificultate financiară nu pot uza de aceste prevederi legale.
Prin urmare, debitorii a căror situație financiară se deteriorează în urma crizei provocate de pandemia cu noul coronavirus, nu dispun de mijloace legale adecvate de restructurare și prevenire a insolvenței. Din contră, în baza actualelor măsuri dispuse, singura opțiune este intrarea în insolvență.
În același timp, creditorii fiscali și bancari apar expuși la posibile acțiuni adverse inițiate de creditorii chirografari, aspect care nu pare a fi fost intenționat prin măsurile actuale.
Anticipând posibilul val de insolvențe, Germania, de exemplu, a considerat necesară suspendarea obligației de a introduce cereri de deschidere a procedurii de insolvență. Prin urmare, și România ar trebui să adopte măsuri mai clare de reglementare în această materie, mai ales pe perioada stării de urgență.
În contextul în care România este în curs de implementare a Directivei de Restructurare Preventivă și având în vedere lipsa dispozițiilor legale care să favorizeze restructurarea debitorilor aflați în dificultate, considerăm că este oportună luarea în considerare a următoarelor măsuri:
Simplificarea dramatică a cadrului de restructurare preventiva (actualul concordat preventiv) prin permiterea de încheiere extrajudiciară de acorduri preliminare de suspendare a plăților și executărilor silite, premergătoare unei restructurări efective, în special atunci când există acordul creditorului fiscal și bancar, dacă creanțele acestora depășesc anumite praguri;
Recunoașterea cauzelor non-financiare, precum pierderea sau suspendarea unui contract cheie în activitatea debitorului (cauză prevăzută explicit de Directiva de Restructurare Preventiva) sau scăderea accentuată a cererii în ultimele 30 de zile.
Aceste cauze ar putea face diferența întrucât ele pot determina capacitatea unui debitor de a-și onora obligațiile actuale sau viitoare, fără a mai aștepta materializarea gravă a situației în lunile următoare.
Implementarea cu prioritate a măsurilor de restructurare activă a obligațiilor bugetare, prin ștergerea și prelungirea termenului acestora, în condițiile menținerii forței de muncă – un prim pas în această direcție a fost făcut prin OUG 29 care, în scopul revitalizării și evitării deschiderii procedurii insolvenței pentru debitorii aflați în dificultate, oferă posibilitatea restructurării obligațiilor bugetare ale acestora, prelungind termenul până la care debitorii pot notifica organele fiscale (30 octombrie 2020);
De altfel acest aspect ar trebui să reprezinte o prioritate a creditorului fiscal care ar avea multiple avantaje din a preîntâmpina falimente și maximiza veniturile pe termen lung la bugetul de stat prin menținerea societăților în funcțiune.
Stabilirea unui plan de plăți interimare minimale (pentru a menține în viață a lanțului de furnizori), pe o perioada pre-determinată în vederea asigurării continuității operațiunilor debitorului, cu scopul final de a revitaliza activitatea acestuia;
Numirea unui specialist în restructurare cu atribuții în monitorizarea, furnizarea de informații creditorilor pentru asigurarea unui cadru real de transparență și cenzurarea/raportarea operațiunilor ilicite sau nepermise, respectiv pregătirea unei propuneri de restructurare.
Constatăm tendința firească, în condițiile actuale, de prioritizare a măsurilor cu caracter sanitar și a celor cu impact imediat asupra activității societăților afectate de restricțiile impuse.
Reamintim însă că este esențial să se acorde atenție imediată și măsurilor cu caracter economic pentru a asigura viabilitatea companiilor mici și mari angrenate într-o serie complexă de relații contractuale. Astfel de măsuri ar permite și păstrarea locurilor de muncă oferite de acestea.
Accelerarea legislației care să permită un cadru de restructurare eficient încă de acum este una dintre măsurile ce ar putea preveni intrarea unui număr mare de companii într-o fază avansată de degradare care ar duce la închidere sau faliment.