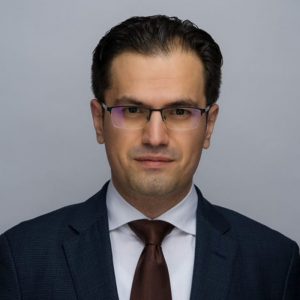 Expertise
Iurie has more than 16 years of experience in the legal field.
He heads the Data Protection practice of the firm.
Iurie specializes in the data protection field, his expertise covering processing employees' data, building and using databases for supporting sales and marketing activities, e-privacy matters (including social networking sites, cookies consent rules and commercial communications), data sharing in mergers, acquisitions and winding-up projects, regulatory compliance (including in connection with disciplinary procedures and FCPA audits), data breach regulations, data subject rights, processing and data transfer formalities, archiving formalities (including in cases of winding-up of companies), classified information.
He assists clients in controls by the data protection authority, in internal data protection and privacy audits, and with training activities.
His area of expertise also includes environmental law.
Areas of specialization:
Data Protection and Privacy
GDPR gap analysis and audits
GDPR and DPO training
processing employees' data, including data sharing within the group for benefits programs and whistleblowing schemes
building and using databases for supporting sales and marketing activities
e-privacy matters, including social networking sites, cookies consent rules and commercial communications
data sharing in mergers, acquisitions and winding-up projects
regulatory compliance, including in connection with disciplinary procedures and FCPA audits
data breach regulations
data subject rights
processing and data transfer formalities
controls by the data protection authorities
internal data protection and privacy audits and training
archiving formalities (including in cases of winding-up of companies)
classified information
Environment
environmental issues in mergers and acquisitions
environmental and other permitting matters
waste management
hazardous substances
protected natural areas
environmental liability, including for historic pollution
sanitary, veterinary and food safety matters
compliance matters, including in case of polluting incidents and authorities' controls
environmental related litigation
Representative Cases and Transactions
Data Protection and Privacy
assistance to a large retail group in conducting an internal audit to assess compliance with data protection requirements, as well as preparing and implementing an action plan with the measures set out in the audit report; also provided training to teams involved in the processing of personal data
assistance to a large financial institution and its subsidiaries with conducting an audit of the processing operations within the group to assess compliance with GDPR requirements, drafting an audit report with the findings, preparing an action plan with recommended measures to be implemented by the group to ensure compliance and assisting with the implementation thereof
advice to a global company active in the cosmetic industry in carrying out a full-scale audit on the data processing operations of its Romanian affiliate and implementing the measures set forth in the audit report; also provided assistance in respect of day-to-day activities
assistance to a leading online classified business in Europe with operations world-wide in selling the database of a Romanian general classified website to a South African multinational mass media corporation
compliance by the Romanian branch of an American multinational insurance corporation with privacy formalities and related procedures
protection of personal data and archiving by a leading software producer
project by a major telecommunications operator, in connection with the possible extension of the access to credit bureaus regulations to allow telecom operators access to data required for financial exposure prevention purposes
assistance of a leading operator in the cement industry in dealing with its data protection obligations in the context of transferring its data in the cloud computing system
compliance with Romanian data protection rules of the website of a major Italian manufacturer of luxury fashion goods
representation of the local affiliate of a leading American software corporation in its relation with data protection control authorities
day-to-day assistance in post-privatization matters for a major company in the automotive industry, involving permitting and regulatory and commercial environmental issues
day-to-day assistance in relation to environmental and sanitary veterinary matters for a large German retailer
litigation on behalf of a leading agricultural company against the environmental authorities, in relation to the surrender of greenhouse gas emission allowances
environmental, sanitary veterinary and food safety matters in the animal rearing and food processing industries for the Romanian entities of the world's largest hog producer and processor
waste management obligations in the context of a waste collection project of the Romanian subsidiary of a large German retailer
environmental and nuclear compliance in the context of building and operating of a radiotherapy center in Cluj, project financed by the largest Romanian bank
assistance of the Romanian affiliate of a major American technology corporation acting in computer and printing business in dealing with its obligations on waste electrical and electronic equipment
compliance of the Romanian affiliate of a world leader in soft drinks production with its obligations towards the Environmental Fund
project consisting in ecological reconstruction in Danube valley undergone by a the leading organization in wildlife conservation and endangered species
assistance of a Dutch consortium of consultancy companies in the context of a floodplain redevelopment project
representation of a company operating a major shopping center in Bucharest in its relation with environmental control authorities
Accolades
Recommended, TMT (Legal 500, 2023)
Education
University of Bucharest Law School, Law Degree
University of Bucharest Law School, Master Degree in Business Law
Paris I, Panthéon-Sorbonne University, Collège Juridique Franco-Roumain d'Etudes Europèennes, Master Degree in European and International Law
Memberships and Affiliations
Bucharest Bar

The International Association of Privacy Professionals (IAPP)
Notable Contributions
contributor to NNDKP Privacy Out Loud
contributor to the "Chat with ChatGPT" debate, organized by Juridice.ro (2023)
speaker at the "ZF Digital Summit" event, organized by Ziarul Financiar (2021)
speaker at "Timisoara SpotON" webinar series, organized by NNDKP (2020)
speaker at HR Breakfast Timisoara, organized by Libero Events (2019)
speaker at the event GDPR Talks 2019, organized by Concord Communication (2019)
speaker at the conference "Data Protection: Solutions and Responsibilities", organized by Chamber of Commerce and Industry of Romania and Universul Juridic (2018)
speaker at the workshop "Romanian Companies and Cybersecurity", organized by Cornerstone Communications (2018)
speaker at ZF Digital Summit 2018, organized by Ziarul Financiar (2018)
speaker at the National Conference on Modern Management in Administration, organized by Oameni si Companii (2018)
speaker at the conference "Ready, Steady, GDPR" (Cluj-Napoca), organized by Business Mark (2018)
speaker at the GDPR Workshops organized by Brasov Chamber of Commerce (2018)
speaker at the Employer Branding Conference, GDPR for Human Resources Workshop, organized by Evensys (2018)
speaker at the "Data Protection Conference" organized by Evensys (2017)
"RuleFinder – Cross Border Data Transfer" (Derivative Services LLP, May 2014)
"Data Protection Laws of the World – Romania chapter" (Charles Russell, 2014)
"Effects of the amendment of the data protection legislation" (Curierul Judiciar, May 2012)
"Data protection implications on employees recruitment practices (Romania)" (DataGuidance, January 2012)
"SEE Legal Employment Guide – Data Protection in Romania" Section (SEE Legal, 2012)