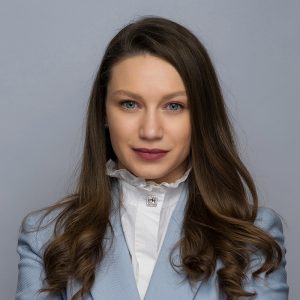 Expertise
Intellectual Property with specific focus on:

trademark rights
design rights
copyright and related rights
domain names

Intellectual Property related fields such as consumer protection, advertising and e-commerce
Data protection and GDPR compliance
Corporate and commercial law matters
Representative Cases and Transactions
assistance to a leading company in the flooring industry in relation to the infringement of trademark and patents. The work included: (i) assistance to the client in order to settle the infringement of the patents and trademarks with the importers who purchased laminate flooring from unlicensed manufacturers, (ii) participation to several negotiations in order to settle the issue, and advice in connection with concluding a settlement agreement whereby the infringer should pay royalties and damages to the owner of intellectual property rights
assistance to one of the world's leading international fashion houses in relation to various consumer protection aspects, among others the labeling of the products, specific terms and conditions, sales limitation policy (implementing a prohibition on the excessive consumer buying in order to hinder the (potential and subsequent) grey marketing of its products), distant sales policy (implementing the distant sales procedure)
assistance to a company active in the fields of (i) pharmaceutical products and (ii) cosmetics with respect to the negotiation and implementation of its exclusive and non-exclusive distribution agreements with several major manufacturers of innovative and generic pharmaceutical products, in order to ensure compliance with distribution rules
assistance to a leading manufacturer of sugar confectionery in relation to various (i) consumer protection aspects in the activity of retail of products, which included review and clearance of labeling and (ii) in setting up distribution agreements for several EU countries
advice to several companies in connection with the implementation of the General Data Protection Regulation.
Selected credentials listed above include work prior to joining NNDKP.
Education
University of Bucharest Law School, Law Degree
Qualified Trademark and Design Attorney, the Romanian Office for Patents and Trademarks
Memberships and Affiliations