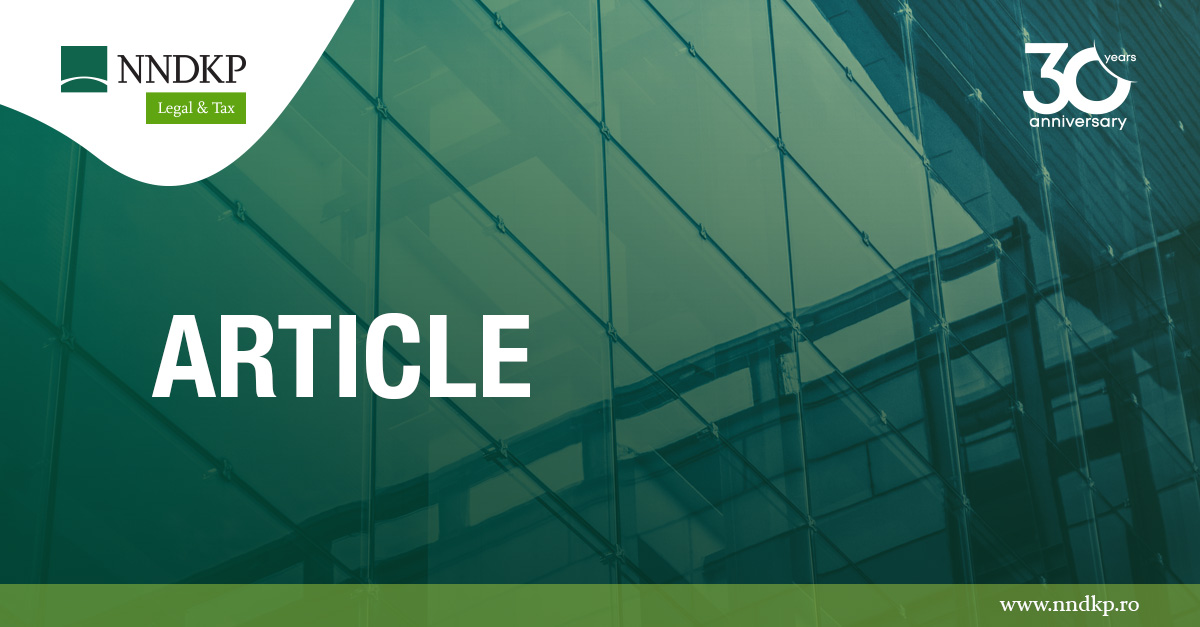 The Covid-19 pandemic over Fidic Agreements
10.04.2020 – Authors: Razvan Vlad & Vlad Anghel
The article is available in English and Romanian. Please scroll down for Romanian language./Articolul este disponibil în limba engleză și în limba română.
The extensive global COVID-19 pandemic determined the states to impose restrictive measures with impact over the free movement of people and usual course of business of the economic operators. Due to the recent development of the outbreak in Romania, the Presidential Decree no. 195/16.03.2020 that instills the emergency state in Romania has been also enacted and applicable on the Romanian territory as of March 16, 2020 for a period of 30 days and it seems that a prolongation of the emergency state will be soon decided upon.
The restrictive measures provided therein as well as the subsequent Military Ordinances adopted by the Romanian authorities so far, which imposed restrictions on the free movement of persons and/or products, limitation of certain economic activities, quarantine, self-isolation, lock-down of certain cities, as well as different protective measures for the employers and employees or tax measures, already affect the development of the projects within the construction sector.
Construction companies are already experiencing such consequences generally consisting of higher costs and price fluctuations, material shortages, logistic breakdowns, order cancellations and extended delays in delivery of materials and equipment, lack of workforce, etc.
Under these circumstances, the claims for extension of time for completion and additional costs are inevitable.
In order to determine how the adverse effects of the COVID-19 pandemic will affect both timing and costs of the construction projects, one may seek the solution within the terms of the relevant contracts. Even though on the market the vast majority tends to see the panacea in the force majeure clauses, fundamentally, such claims are not limited to such specific remedy.
The contracts governing the implementation of the construction projects may give rise to additional and/or alternative entitlements under the "classical" extension of time and disruption provisions, change in law provisions and provisions dealing with variations or change orders, etc.
But first and foremost, it is worth mentioning that the COVID-19 pandemic, as well as the compelling measures imposed by the state authorities under the circumstances of the emergency state already declared will lead to difficulties in fulfillment of the contractual obligation, or even to the impossibility of fulfilling such obligations. Such circumstances might be seen as objective justifications to suspend the performance of the obligations, to uphold the exclusion of liability derived from non-performance of the obligations, to re-negotiate and adapt the contract in order to achieve the contractual balance or even to terminate the contract.
Under the various editions of the FIDIC standard form agreements, contractors are entitled to extension of time for certain circumstances deriving from COVID-19 pandemic: if contractors are disrupted by unforeseeable shortage in the availability of personnel or goods caused by epidemic or government actions (both 1999 and 2017 Red and Yellow Books) or in case contractors have diligently followed the procedures laid down by the relevant legally constituted public authorities (1999 Red Book). For instance, in case additional health and safety measures on sites or mandatory quarantine of certain personnel are imposed by the authorities might be grounds for the claims of the contractors in the near future. Likewise, if an exceptional event occurs (2017 Red, Yellow and Silver FIDIC), which genuinely represents the replacement of the force majeure clause from the previous editions of FIDIC, then the contractors might be entitled to both extension of time and/or recovery of costs incurred as a result.
Moreover, there is a rationale of invoking the provisions regarding adjustments based on change of law's provisions, thus claiming the change in legislation considering the enactments imposing various restrictions on the free movement of population and limitation of the economic activities.
Notices to such end would be recommendable to be sent to employers to ensure at least another path of claiming additional costs and extension of time if the force majeure events do not seem seriously substantiated. Such approach will cover the possible conflicts on the interpretation of the consequences of the force majeure and the qualification of the epidemics/pandemics as granting solely extension of time or granting both extension of time and additional costs.
Last but not least, as the main goal is to safeguard the contractual understandings between the parties and to continue the implementation of the construction projects, the theory of hardship might be also used and re-negotiation of the contracts and distribution of risk might be attempted. Usually, one party may rely upon hardship if due to unpredictable events, the performance of its obligations becomes excessively burdensome. Nonetheless, the major drawback in this case would be that the adaptation of the contract would be the sole attribute of the courts of law of which activities are currently suspended.
The COVID-19 pandemic undoubtedly triggers negative consequences to the contractors, which bear the majority of the risks under the construction contracts. The real test for the contractors will be to substantiate their claims in a timely manner and prove that COVID-19 represents the actual cause of the delay, disruption or additional costs.
---
Efectele pandemiei COVID-19 asupra contractelor FIDIC
Răspândirea extinsă la nivel global a noului coronavirus SARS-CoV-2 a determinat statele să impună măsuri restrictive ce afectează libera circulație a persoanelor și activitatea curentă a operatorilor economici. Având în vedere evoluția situației epidemiologice în România, Decretul prezidențial nr. 195/16.03.2020 privind instituirea stării de urgență pe teritoriul României a fost adoptat și a intrat în vigoare în România la data de 16 martie 2020, pentru o perioadă de 30 de zile, și se preconizează că o decizie privind prelungirea stării de urgență ar urma să fie luată în perioada următoare.
Măsurile restrictive prevăzute în decret, precum și în Ordonanțele Militare adoptate ulterior de autoritățile române, care au instituit restricții asupra liberei circulații a persoanelor și/sau  produselor, limitarea anumitor activități economice, măsuri de carantină, măsuri de autoizolare, închiderea anumitor orașe, precum și o serie de măsuri de protejare a angajatorilor și angajaților sau măsuri fiscale, deja afectează dezvoltarea proiectelor din sectorul construcțiilor.
Societățile de construcții deja se confruntă cu efecte precum costuri mai mari și fluctuații ale prețurilor, penurie de materiale, sincope la nivelul lanțului logistic, anulări de comenzi și întârzieri importante în livrarea materialelor și echipamentelor, lipsa forței de  muncă, etc.
În aceste circumstanțe, în mod inevitabil vor exista solicitări de prelungire a duratei de execuție și de plată a costurilor suplimentare.
Pentru a stabili modalitatea în care efectele negative ale pandemiei COVID-19 vor afecta termenele de execuție și costurile proiectelor din sectorul construcțiilor, analiza clauzelor contractelor relevante ar putea fi o soluție. Deși marea majoritate a actorilor de pe piață tinde să considere clauzele de forță majoră drept un panaceu, pretențiile de tipul celor de mai sus nu se limitează la acest remediu specific.
Contractele care vizează implementarea unor proiecte în sectorul construcțiilor pot da naștere unor drepturi suplimentare și/sau alternative pe baza prevederilor "clasice" referitoare la extinderea duratei de execuție și perturbarea activității, a prevederilor privind modificarea legilor sau a celor privind emiterea unor instrucțiuni de modificare, etc.
În primul rând, trebuie menționat că pandemia COVID-19, precum și măsurile coercitive impuse de autoritățile statului în contextul stării de urgență deja declarată, vor cauza dificultăți în îndeplinirea obligațiilor contractuale sau chiar imposibilitatea îndeplinirii obligațiilor respective. Aceste circumstanțe ar putea fi considerate drept motive obiective pentru suspendarea obligațiilor, exonerarea de răspundere în situația neîndeplinirii obligațiilor, renegocierea și ajustarea contractului în scopul asigurării echilibrului contractual sau chiar pentru rezilierea contractului.
Conform diferitelor ediții ale contractelor standard FIDIC, antreprenorii pot beneficia de prelungirea duratei de execuție în anumite circumstanțe cauzate de pandemia COVID-19: în cazul în care aceștia se confruntă cu perturbări ale activității generate de dificultăți neprevăzute în asigurarea personalului sau bunurilor necesare din cauza situației epidemice sau a acțiunilor adoptate de Guvern (Cartea Roșie și Cartea Galbenă din 1999 și 2017) sau în cazul în care antreprenorii au respectat cu diligență procedurile stabilite de autoritățile publice relevante legal constituite (Cartea Roșie, 1999). De exemplu, impunerea de către autorități a unor măsuri suplimentare pe șantiere în domeniul securității și sănătății în muncă sau plasarea obligatorie a anumitor lucrători în carantină ar putea fi invocate de antreprenori, în perioada următoare, în susținerea pretențiilor acestora. De asemenea, dacă intervine un eveniment excepțional (Cărțile FIDIC Roșie, Galbenă și Argintie, 2017), noțiune care înlocuiește practic clauza de forță majoră din edițiile FIDIC precedente, antreprenorii pot fi îndreptățiți la prelungirea duratei de execuție și/sau recuperarea costurilor generate ca efect al unor astfel de evenimente excepționale.
În plus, există argumente pentru invocarea prevederilor privind necesitatea efectuării de ajustări din cauza unor modificări legislative, antreprenorul prevalându-se astfel de argumentul modificării legislației, având în vedere actele legislative prin care au fost instituite diferite restricții privind libera circulație a persoanelor și au fost limitate activitățile economice.
Este recomandat să se trimită beneficiarilor notificări în acest sens pentru a dispune de o altă modalitate de a revendica plata costurilor suplimentare și prelungirea duratei de execuție, în cazul în care argumentația bazată pe existența unui eveniment de forță majoră nu pare a fi temeinic fundamentată. Această abordare acoperă orice posibile conflicte privind interpretarea consecințelor evenimentului de forță majoră și calificarea epidemiei/pandemiei ca eveniment care îndreptățește doar la prelungirea duratei de execuție sau atât la prelungirea duratei, cât și la plata costurilor suplimentare.
Nu în ultimul rând, întrucât obiectivul principal îl reprezintă salvgardarea relației contractuale dintre părți și continuarea implementării proiectelor de construcții, teoria impreviziunii poate fi, de asemenea, invocată și se poate încerca renegocierea contractelor și alocarea riscurilor între părți. În general, o parte poate invoca impreviziunea dacă, din cauza unor evenimente neprevăzute, îndeplinirea obligațiilor părții respective devine excesiv de oneroasă. Principalul dezavantaj în această abordare îl reprezintă faptul că adaptarea contractului este atributul exclusiv al instanțelor judecătorești, iar activitatea lor este în prezent suspendată.
Pandemia COVID-19 are, în mod cert, efecte negative asupra antreprenorilor, care suportă majoritatea riscurilor aferente contractelor de antrepriză. Adevăratul test pentru antreprenori rezidă în capacitatea lor de a-și fundamenta pretențiile într-un termen scurt și de a demonstra că pandemia COVID-19 este cauza reală a întârzierii lucrărilor, întreruperii activității sau a costurilor suplimentare.