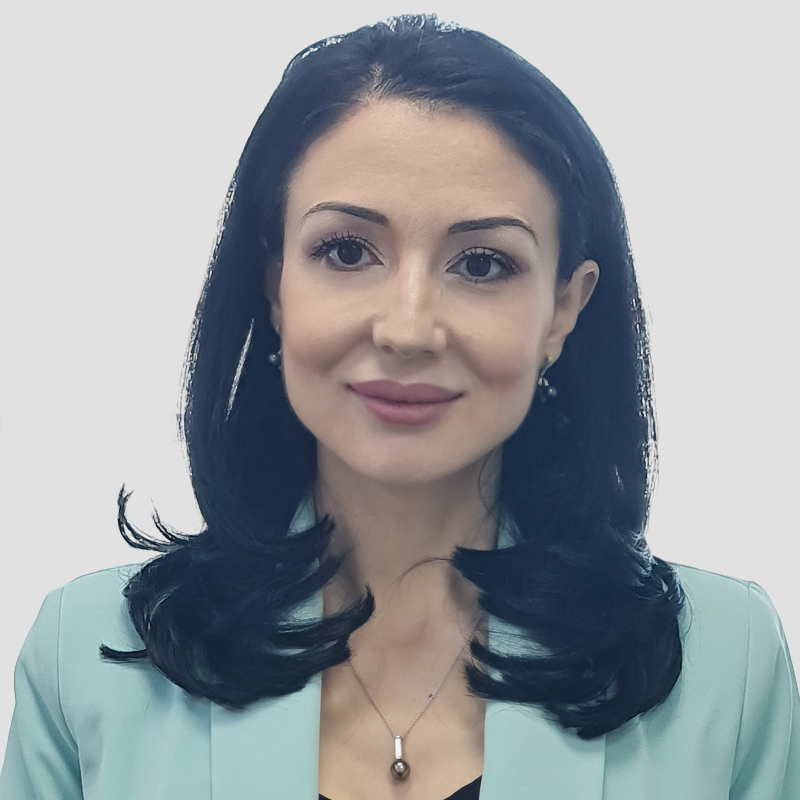 Expertise
Magda Popescu is an attorney specialized in intellectual property and cyber law, with more than 18 years of professional experience.
She assists extensively both Romanian and multinational companies in intellectual property matters concerning copyrights and related rights, sui generis database rights, trademarks, industrial designs, domain names, geographical indications, patents, unfair competition associated with the use of brand elements, enforcement of intellectual property rights, as well as in litigation related to such rights.
Magda regularly assists clients with the administration of their IP portfolios (pre-filing clearance searches, filling applications, oppositions, observations, challenges, reexaminations, annulment, assignment, registration of other changes to the legal status, renewals, etc.).
She also has extensive experience in providing legal advice on new technologies (artificial intelligence and machine learning, data analytics, big data, cybercrime – technical scams, business email compromise, phishing and spear phishing, online child exploitation, botnets and malware).
Magda advises clients from a wide range of industry sectors, including multinational companies and organizations or domestic trade associations. She has extensive expertise in assisting software producers and associations of IT&C and software companies in connection with breaches of intellectual property rights, private copying, drafting of legislation, legal training, as well as with audits and licensing aspects. She also provides legal advice on sector specific contracts, anti-trust issues, and other commercial matters in connection with clients' regular business activity.
In addition, Magda assists clients in arbitration and litigation related to intellectual property rights.
Magda has notable experience with the legislative process and she is a regular speaker at major national and international events focused on IP and IT matters and author of numerous articles in her fields of expertise.
Representative Cases and Transactions
assistance to companies from diverse industries, including IT&C, food and beverages, real estate, chemical industry, etc., with the registration and administration of their IP portfolios
a major international IT company with the outsourced management of the program Digital Crimes Unit, with regional role: CSI area (2015-2016); Russia (starting with 2018); Central & Eastern Europe and MEA markets (starting with 2019). The legal support includes reviewing the legal documentation related to particular cases (court actions, statements of defence, final hearings, revision and establishing the evidence and preparing the arguments to be used in court)
assistance to a chemical group with the protection of their IP rights which resulted in a significant reduction in counterfeit products, from 90% in 2012 to under 10% in 2015-2016
assistance to one of the largest online marketplaces in Romania in connection with intellectual property rights, including preparing answers, participating in negotiations and finalizing transactions, with the focus on avoiding litigation and supporting the client to enhance its business relationships
assistance to various IT&C producers in negotiations, arbitration proceedings and litigation with the owners of copyrights and related rights regarding private copying levy
legal support to a group active in the bakery industry with drafting and filling patent applications in the baking industry, as well as with the management of the client's IP portfolio
legal assistance and representation to one of the largest online retailers in Romania in litigation with a media agency in connection with a video ad, solved in favour of the client before the High Court of Cassation and Justice of Romania (ICCJ)
representation of one of the largest online retailers in Romania  in winning two domain names through WIPO arbitration
representation of one of the largest online retailers in Romania with respect to a potential infringement claim concerning a trademark owned by an event organizer, solved through final judgment in favour of the client
legal assistance to a group active in the bakery industry in drafting and filing an opposition, and afterwards negotiation and becoming member of the association "Placinta Dobrogeana" in order to register a geographical indication
Selected credentials include work prior to joining NNDKP.
Education
University of Bucharest Law School, Law Degree (1997-2001)
University of Bucharest Law School, Postgraduate courses on private law (2002)
Institute for Business Law and International Cooperation Nicolae Titulescu – Henri Capitant, a jointly administered Institute by the Paris I University Pantheon-Sorbonne and the University of Bucharest Law School, Master Degree in Business Law (2002-2003)
The State Office for Inventions and Trademarks, together with the Romanian Industrial Property Attorneys Chamber – Training on Trademarks and Industrial Design, Diploma of Industrial Property Attorney (trademarks and industrial design) (2005)
The Ministry of Culture together with the Ministry of Justice – Certificate granting the right to become an authorized translator – law & legal sciences (English/Romanian) (2005)
Ministry of Justice – Certification as judicial expert in trademarks and industrial design (2010) (suspended)
University of Bucharest Law School and Bucharest Bar – Postgraduate courses of continuous professional training in the new codes – Civil Code, Civil Procedural Code, Criminal Code, Criminal Procedural Code (2012-2014)
Certified Information Privacy Professional European Union – CIPP/E (2018)
European University Institute Florence, Robert Schuman Centre for Advanced Studies – Annual Training in Competition Law and Economics (2018-2019)
Memberships and Affiliations
Bucharest Bar (2002)
Romanian Bar Association (2002)
Member of the Industrial Property Attorneys Association (2006)
Authorized legal English translator (2006)
European Trademark and Industrial Design Attorney (2007)
Judicial expert in trademarks and industrial design (2010)
Member of the International Association of Privacy Professionals – IAPP (2018)
Member of the International Trademark Association (INTA)
Notable Contributions
Drafting, coordinating and producing a Methodological Guide for anti-software piracy enforcement, a project of the BSA | The Software Alliance, together with the General Public Prosecutor's Office, the General Inspectorate of Police and the Romanian Copyright Office. This guide includes procedural and practical aspects, as well jurisprudence and commented legislation (2011)
Participating (as attendee or speaker) in national and international conferences of law professionals and business community concerning intellectual property rights, IT&C, fiscal matters, cybercrime, etc.
Published articles in the general media and in the Romanian IPR Law Review, TV and radio broadcasts concerning various legal matters (e.g. copyright, trademarks, domain names, cyber-crime, e-commerce, ISP liability, private copying etc.)
Speaker at the event "How can we protect against the most powerful supervisory authority in Romania – the Competition Council?" / "Cum ne protejăm de cea mai puternică autoritate de control din România – Consiliul Concurenței" organized by Juridice.ro (2019)
Presentation on Artificial Intelligence at the international conference "New Global Challenges in CyberSecurity-CERTCON9" (2019) and on Malware at the international conference "The New Global Challenges in Cyber Security – #certcon10" (2020)
Speaker at public event on Cyber-Hygiene, SNSPA (2019)
Speaker at OSCE International Cybercrime Workshop, Baku, Azerbaijan (2019)
Speaker at the Cybercrime Conference organized by the Council of Europe (Strasbourg, 2004)
Co-author of a case-law bulletin in the field of IPR